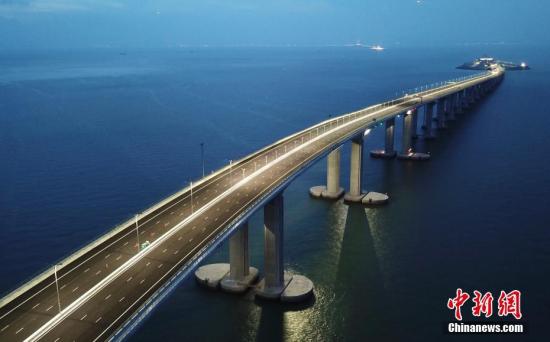 A rendering of the Hong Kong-Zhuhai-Macao Bridge. (Photo/China News Service)
(ECNS) - Hong Kong-Zhuhai-Macao Bridge (HZMB) scheduled to open this summer will reshape the tourism landscape among the three regions, Macao Daily reported.
The 55-kilometer bridge in the Lingdingyang waters of the Pearl River Estuary will be the world's longest sea bridge when it opens. The main bridge, together with crossing facilities and link roads, is designed to meet growing demands for passenger and freight transport between the three cities.
Major travel agencies in Guangdong are currently promoting HZMB tour packages for both daytime and night attractions at prices from about 100 to 600 yuan, attracting inquiries from more than 30,000 tourists in the Pearl River Delta region.
Su Yingshan of Guangzhilu tourism agency said a "three-hour tour and golden circle" will be formed thanks to the massive bridge, road networks and rail links to other cities, making more travel itineraries available. An increasing number of residents in west Guangdong are expected to visit Hong Kong.
Linda Choy, vice president of Communications and Public Affairs at Hong Kong's Disneyland, said the theme park will become the strongest travel brand in the Greater Bay area amid rising interconnections.
Travel insiders in Guangdong also said the Jiangmen-Zhanjiang railway already put into operation will closely link four cities in western Guangdong and their diverse cultural charms with the Pearl Delta Region, Hong Kong and Macao.
Coastal travel packages, including to the less-polluted Dinglong Bay beach bordering Zhanjiang and Maoming cities, are expected to gain popularity due to convenient rail connections.