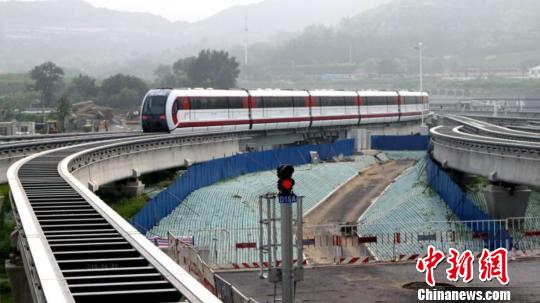 A maglev train undergoes test run on Beijing's new S1 line, a move that targets to shorten the commute time between Beijing and surrounding cities. (Photo/China News Service)
(ECNS) - The Ministry of Transport has pledged more efforts to accelerate the building of a multi-layered, comprehensive transport network to better link Beijing, Tianjin and Hebei amid integrated regional development.
Mao Jian, an official with the ministry's planning bureau, said the transportation network will help form a "one-hour commuting circle" among downtown areas in Beijing, Tianjin, Shijiazhuang (capital of Hebei Province) as well as new satellite cities.
Meanwhile, Beijing, Tianjin, Baoding and Tanggu will be connected within an hour's commute, said Mao at a press conference on Monday.
The construction of supportive transportation projects for the 2022 Winter Olympics will also be guaranteed so as to realize the one-hour road connection among Olympics venues in Beijing, Yanqing and Zhangjiakou clusters, it was added.
The ministry said the transport infrastructure in Xiongan New District, spanning three counties in Hebei Province about 100 km southwest of Beijing, will be built at a higher standard.
It recently rolled out a 3-year action plan to support the country's 13th Five-Year program. The plan, with 76 tasks identified, involves deepening structural reforms in the supply side of transportation and building a high-quality, modern transportation system.