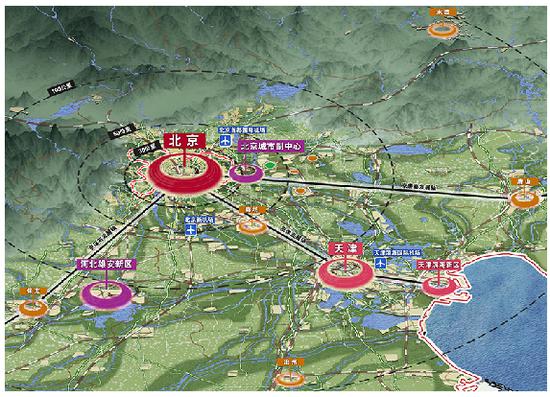 Layout of Beijing subsidiary center. (Photo/Screenshot of graphics on Chinanews.com.cn)
(ECNS) - Beijing authorities have released a draft detailing the plans for the "subsidiary center" under construction in Tongzhou District, giving specific targets over sustainable growth and green environment.
Based on the Beijing General City Plan 2016-2035, the "subsidiary center" will become a role model as a world-class harmonious and livable area, a new type of urbanization, and a coordinated development in the Beijing-Tianjin-Hebei region, said the report. It aims to be "low-carbon, forest-like, smart, livable and inclusive."
The center will include complete amenities offering comprehensive functions, with a concentration on three areas -- administrative offices, business service and cultural tourism.
It will ensure green space of 30 square meters for each person, who can also access a park within 500 meters. Efforts will also be made to preserve cultural and historical legacies of the Grand Canal.
Residents can access a variety of facilities within a 5-minute walk, while a 15-minute walk will lead to the community center equipped with one-stop services.
The plan also envisions a green transportation model, saying resident mobility will no longer rely on personal cars with green travel meeting 80 percent of their needs. 
New energy and renewable energy will account for more than 20 percent in the municipal infrastructure system, while the center will adopt strict measures to protect the ecological environment, achieve significant improvement in air quality and restore water ecosystems.