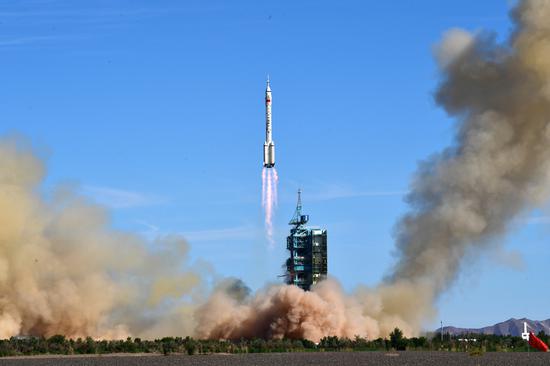 A 20-story-tall Long March 2F carrier rocket blasts off at the Jiuquan Satellite Launch Center in northwestern China's Gobi Desert, June 17, 2021. (Photo: Wang Jiangbo/chinadaily.com.cn)
Last month, three Chinese astronauts returned to Earth after a successful three-month mission in space. The Shenzhou XII spacecraft crew became the first to stay in China's new space station, in a big win for Beijing's space exploration program.
The strides in space science by China, a major developing country, are an inspiration to the larger, developing Global South.
By building its own space station, Tiangong, Beijing is expanding its scientific reach, conducting research that cannot be done anywhere else. The results of such scientific inquiry will be useful in helping the world deal with mounting challenges, including health crises, climate change and poverty.
With the International Space Station, which went into orbit in 1998, set to retire as soon as 2024, the new Chinese space station will play an important role in continuing the search for answers in outer space.
China's space achievements have grown since the inauguration of the China National Space Administration in 1993.
In 2003, China became the third country to send a man into space. A year later, Wang Yongzhi, a chief designer of China's manned space program, revealed that China aimed to have a permanent crewed space station, which is now becoming a reality. In 2019, China became the first country to send a robotic rover to the far side of the moon.
The development of China's space power can be viewed from the comprehensive growth and development of Chinese society, including lifting millions of people out of extreme poverty to achieve a moderately prosperous society in just three decades.
Under the African Union's Agenda 2063, Africa has adopted a continental space policy that underscores the importance of outer space to the development of Africa in a number of fields, including agriculture, disaster management, remote sensing and climate forecasting. In addition, banking, finance, defense and security also feature heavily in the blueprint, which holds that Africa's access to space technology is no longer a matter of luxury.
Fourteen African countries have active space programs, having launched a total of 42 satellites by January 2020, according to the China-Africa Research Initiative. For the continent, which comprises 54 countries, space programs are relatively nascent.
Like many of China's other aspects of transformation, its space exploration program has brought developing countries aboard. For example, Beijing is working with African countries on a range of space exploration themes. China has also helped build and launch satellites for Nigeria, Algeria, Sudan and Ethiopia, and it currently ranks as the fourth-largest satellite contractor in Africa.
China has also welcomed African scientists to visit and participate in its space experiments and technology building, transferring hands-on knowledge to beneficiaries. In 2017, Kenya initiated talks with the China National Space Administration that would allow experiments by Kenyan universities to be conducted on China's space station. Such exchange programs have significantly boosted the capacity for space development programs on the continent.
As a choice destination of Africans seeking higher education abroad, China is having an impact on young African scholars, including in the area of China-Africa space cooperation. Such targeted training fosters the continent's ability and cooperative power to realize Africa's space aspirations.
The author, Adhere Cavince, is a Kenya-based scholar of international relations with a focus on China-Africa cooperation.