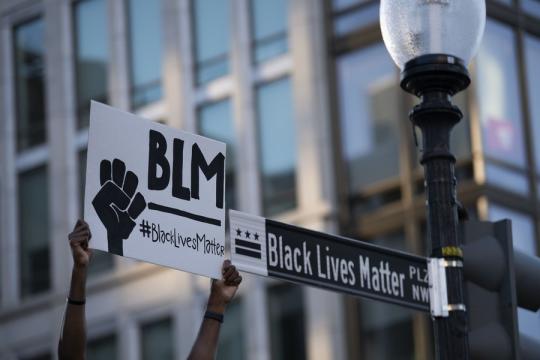 Photo taken on June 8, 2020 shows a protester holding a sign that reads "Black Lives Matter" near the White House during a demonstration over the death of George Floyd in Washington D.C., the United States. (Xinhua/Liu Jie)
While Washington has been pointing an accusing finger at other countries on unfounded and ill-willed grounds, human rights tragedies happening within the U.S. territory expose that Washington is nothing but a double-dealer.
Almost every day, rising discrimination against ethnic minorities, raging gun crimes and collapsed line of defense against the COVID-19 pandemic have been stoking fears and claiming lives across the country, tearing down Washington's fig leaf and laying bare its own human rights atrocities stained with blood and tears.
DETERIORATING SITUATION OF INDIGENOUS COMMUNITIES
Having undergone ravages of ethnic cleansing and genocide by the U.S. government in history, Native Americans have still been unfairly discriminated against and treated as second-class citizens with their rights being trampled on even today.
According to a report by the United Nations Special Rapporteur on the implications to human rights of the environmentally sound management and disposal of hazardous substances and wastes, which was issued on Aug. 5, 2020 pursuant to the Human Rights Council resolution 36/15, the indigenous peoples in the United States are regularly exposed to toxic pollutants, including nuclear waste, released or produced by extractive industries, agriculture, and manufacturing.
Another UN report said that amid the COVID-19 pandemic, the hospitalization rate among the indigenous peoples and ethnic minority groups is five times that of non-Hispanic whites, with the death rate far higher than their white peers.