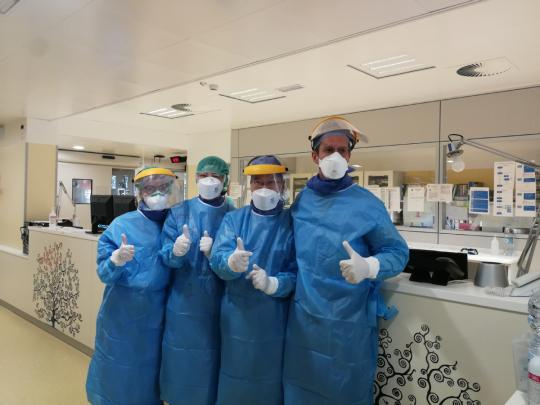 Chinese medical team experts and Italian doctors pose for a photo in Padua, Italy, on March 18, 2020. (Photo/Xinhua)
Special: Battle Against Novel Coronavirus
Experts have become more available as nation begins to emerge from epidemic
Chinese scientists and doctors from the front lines can help other nations formulate their own response plans and contain the pandemic by sharing their practical know-how and key data regarding COVID-19 with foreign peers, experts said.
Since China has wrestled the disease to its knees over the past few weeks, experts have become more available and are sharing their insights with the rest of the world through workshops, video calls and news briefings.
The topics with the most amount of foreign interest are quarantine measures, diagnosis methods and treatments, especially for patients in severe and critical condition.
Some of these outreach efforts are done through official channels like embassies or government institutions, but many experts are also getting their knowledge out through universities, hospitals, civil societies and other grassroots agencies.
"Almost all the suggestions for improvement given by Chinese experts have been accepted by their Italian peers," Li Junhua, the Chinese ambassador to Italy, said in a video call with China Central Television.
"I believe the situation in Italy will gradually come under control as more rigorous prevention and control is implemented."
Tang Menglin, the head nurse of a medical delegation sent to Italy, said the friendship between Italy and China will deepen through this joint battle against the pandemic.
"We Chinese medics are the bridge linking the two peoples now," Tang said.
Last week, doctors from Zhejiang province held a video conference with peers from Yale University in the United States.
The Chinese participants shared practical advice ranging from trial drugs and their potential side effects to how to conduct surgeries on critical patients.
"By looking at the current statistics, the disease's global mortality rate is no lower than that in China," said Liang Tingbo, a medical professor from Zhejiang University.
"We must share our experience and methods with the world, including some of our shortcomings, so that other nations can avoid making the same mistakes and help save more people."
In a video call with US doctors on March 13, Zhang Wenhong, head of the department of infectious diseases at Huashan Hospital under Fudan University, said at the start of the outbreak that China had relied solely on nucleic acid testing as the go-to diagnostic method, and this had left many patients waiting since there was a shortage of test kits. Further, the accuracy of the results was only around 60 percent.
Zhang said his hospital quickly employed other methods, such as CT scans, next generation sequencing and other analytical techniques to help diagnose patients.
Confirmed patients should be swiftly hospitalized to avoid infecting their family members or communities, he added.
Earlier this month, Enrico Ammirati, a cardiologist from Italy, called his peers at Tongji Hospital in Wuhan, raising questions about efficient ward setup, the protection of medical workers and treating critical patients with cytokine storm-a life-threatening condition in which the immune system overreacts and attacks the body.
Wang Daowen, a cardiologist at the Wuhan hospital, said they could refit their general wards by turning off air conditioners and adding doors to separate the wards into clean, semi-contaminated and contaminated areas.
The Tongji experts also showed how they used their protective masks and suits.
When treating cytokine storm, the Chinese doctors advised monitoring another condition called fulminant myocarditis that can cause sudden heart failure.
Jean-Pierre Armand, an oncologist based at the Gustave Roussy Institute in Paris, said his video call with Chinese peers last week was "very valuable and can help Europe avoid many pitfalls."
Wang Ting, general director of the China Research Institute for Science Popularization, said: "the COVID-19 pandemic is a new challenge that has an unknown origin, and the situation is constantly evolving.
"Only science can unveil its secrets."
Since February, the China Association for Science and Technology said it has sent out letters of encouragement and information packages regarding COVID-19 to scientific organizations in over 20 countries in Europe, Asia and Africa.
In a reply letter, Ehud Menipaz, president of the Association of Engineers in Israel, thanked the association for the information videos.
He said Israelis have been praying for the Chinese people at the Western Wall, hoping China and the world can overcome the novel coronavirus soon.
Wang said global scientific communities should enhance dialogue and cooperation, share experimental data, produce high-quality scientific findings and offer practical advice to end the disease's global rampage.
"This will showcase the value of science and technology and the power of unity when building a community for the shared future of humankind," he said.