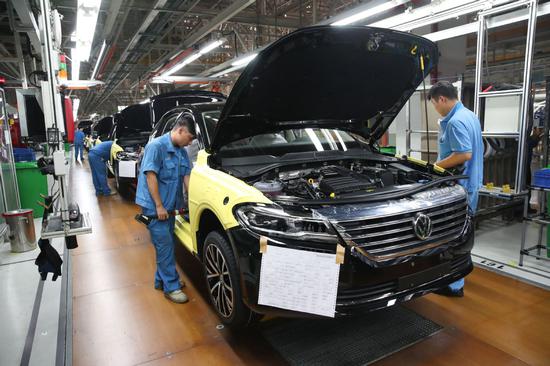 Employees put finishing touches to cars at the SAIC Volkswagen factory in Shanghai. [Photo/Xinhua]
Falling vehicle sales are increasing the pressure on Chinese carmakers and prompting many of them to bolster financial resources for the bumpy road ahead, analysts said.
Vehicle sales from January to July totaled 14.13 million units, down 11.4 percent year-on-year, according to the China Association of Automobile Manufacturers. It estimated that sales would drop 5 percent this year from 2018 to 26.68 million vehicles.
During the first seven months of this year, carmakers and parts manufacturers in the country had issued bonds worth 56.47 billion yuan ($7.9 billion), up 83.8 percent from the same period last year, according to the 21st Century Business Herald newspaper.
And the trend has not stopped. In a filing to the Shanghai Stock Exchange on Aug 10, SAIC Motor Corp, the country's largest car group by sales, said its general assembly had passed a bill to issue bonds worth up to 20 billion yuan.
This was the first time that the carmaker, which is a partner of Volkswagen and General Motors, had come up with a bond plan in 11 years, according to the 21st Century Business Herald.
SAIC said in the filing the bonds would be issued "to improve cash flow and fund research as well as projects".
Patrick Yuan, an analyst at Jefferies Hong Kong, said the situation had something to do with its lackluster sales.
"Research on smart cars and connectivity is costing a lot, and the sales are not good, so it is little wonder that SAIC has been cutting dividends since last year and is now borrowing money from the market," said Yuan.
SAIC sold 439,800 vehicles in July, down 9.3 percent from the same month last year. Its sales totaled 3.38 million in the first seven months, falling 15.73 percent year-on-year.
Two major sources of its revenue, SAIC GM and SAIC Volkswagen, saw their sales fall 9.25 percent and 13.49 percent respectively in the same period.
SAIC is yet to release its second-quarter financial statement, but analysts at Hua Chuang Securities estimated that its second quarter net profit could fall 30 percent to 6.5 billion yuan. In the first quarter SAIC's net profit was down 15 percent year-on-year to 8.25 billion yuan.
Its partner GM said its revenue from China in the first half of the year slumped 48 percent year-on-year to $611 million.
SAIC was not alone. On Aug 12, China's largest new energy vehicle maker BYD said it had finished issuance of corporate bonds worth 2.5 billion yuan.
With this the Shenzhen-listed carmaker has issued corporate bonds to the tune of 5.4 billion yuan this year, which it said was to "improve cash flow".
In the same period, BJEV, the new energy arm of BAIC Group, issued notes and commercial paper worth 3.5 billion yuan.
Great Wall Motors, which is one of the few companies that has managed to secure sales growth this year, had applied for a 4 billion yuan bond quota from the authorities.
In late July, the carmaker scaled down its net profit estimate in the first half of the year to 1.53 billion yuan, which would be a 58.6 percent slump from the same period last year, and had cut its whole year sales target to 1.07 million from 1.2 million.
Neil Wu, an auto analyst at consulting firm Roland Berger, said lackluster sales are hurting carmakers' revenue and profit and they have to resort to a diversified financing plan.
"Under current economic circumstances, banks are tightening control on loans as well, so corporate bonds are a better choice for them."
Xu Haidong, a deputy secretary-general of the China Association of Automobile Manufacturers, said the fall will become gentle in coming months because of a lower comparable base figure from the second half of last year and more measures to help with car consumption.
The central government has since January been trying to boost consumption of a wide range of goods including vehicles, asking local authorities to offer different forms of assistance and ease restrictions on vehicle purchases, especially new energy ones.
John Zeng, manager of LMC Automotive Shanghai, said he expected sales growth to appear in certain months in the second half and the market is likely to rebound in 2020.
At a forum on Aug 19, Xin Guobin, vice-minister of industry and information technology, said that both the market and the industry have entered a stage of adjustment since the annual sales decline since the 1990s was reported last year.
"Yet China's auto industry has a solid foundation for development and the trend of an upward spiral in the long run has not changed," said Xin.