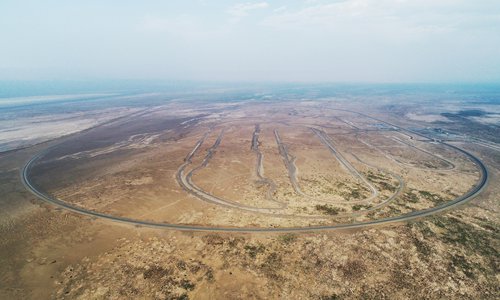 The world's largest vehicle testing field in Turpan, Northwest China's Xinjiang Uyghur Autonomous Region (Photo/Courtesy of China Tiesiju Civil Engineering Group)
Special: 70th birthday of PRChina
Construction work on the world's largest vehicle testing field in an extremely hot and dry area has been completed in Turpan, Northwest China's Xinjiang Uyghur Autonomous Region, breaking the technical monopoly of Germany and Japan in building high-speed test loops.
In September 2015, China's leading bridge and road builder, China Tiesiju Civil Engineering Group (CTCE), kicked off the project for the SAIC (Shanghai Automotive Industry Corp Group) Volkswagen joint venture.
The project passed examinations by German experts and China's quality inspection departments in July.
Vehicle testing fields are used to test the technical service lives and endurance of new automobile and automobile-related products by providing special road tests.
In the future, it will be able to test the safety performances for more than 1,200 fuel vehicles and 400 new-energy vehicles for SAIC Volkswagen every year, according to CTCE.
Dry heat
The total area of the testing field is 23.3 square kilometers, which is equivalent to 3,270 standard football pitches.
The location for the automobile testing field was chosen by SAIC Volkswagen due to its hostile geographical conditions, which allow it to test the quality of vehicles more thoroughly.
Turpan was chosen because it has the hottest weather in China, Zhou Hao, chief engineer of the construction project of CTCE, told the Global Times.
Turpan, located in central Xinjiang and the Turpan Basin, has long been dubbed the "Land of Fire" due to its scorching heat. Land surface temperatures there can reach 83 C in summer.
"Even air temperatures can go above 50 C. In order to avoid working under high temperatures, we work at nights, usually from 7 pm to noon the next day in five hour shifts," Zhou said, adding that most workers can get used to this working schedule.
In addition to the heat, the site is located in a strong wind zone, giving it another nickname the "warehouse of wind." Zhou said that the average number of extremely windy and sandy days can reach 35 in a year.
Zhou noted that most of the workers come from Henan and Anhui provinces, and few are locals.
Major challenge
Building a vehicle testing field in a complex environment is a challenge for any country.
The geological conditions at the site were one of the challenges they faced, as the landscape is mainly a saline desert with accumulation of thenardite, which is a whitish vitreous mineral. In order to prevent a reaction of salt and water from occurring, the team came up with a method which involved packaging the entire foundation underground.
"As a result, the separation of thenardite and water means there is no threat to the stability of the roads and can also increase the service life of the field," Zhou told the Global Times.
It is the first time that a large lateral slope is seen in testing fields in China, according to CTCE.
For a long time, China did not have the advanced hydraulic system needed to build such lateral slopes, and had to rely on Japan and Germany.
A section of the high-speed test loop in the vehicle testing field (Photo/Courtesy of China Tiesiju Civil Engineering Group)
"Before, when building high-speed test loops, we had to rely on Germany and Japan's instruction on both equipment and personnel. But now, we have invented our own equipment, breaking the technical monopoly of the two countries," Zhou said.
The project is seen as a major boost for automobile industry technologies, but will also help promote socioeconomic development in Xinjiang, CTCE Chairman Zhang Hechuan commented.