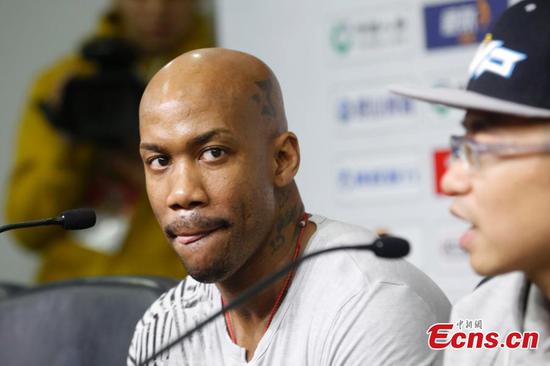 Former NBA star Stephon Marbury meets the press before playing in his last-ever game in the China Basketball Association's regular-season finale in Beijing, Feb. 11, 2018.(Photo: China News Service/Han Haidan)
CBA team Beijing Aolong Fly Dragon announced on Monday that the club had signed a contract with former NBA and CBA star Stephon Marbury to start the role of head coach.
42-year-old Marbury had a 22-year career as professional basketball player. Marbury entered NBA in 1996 as the fourth overall pick, and became NBA All-Star with Phoenix Suns in 2001 and 2003.
Marbury played in CBA since 2010. He led Beijing Ducks to three league titles in 2012, 2014 and 2015, and spent one year with Beijing Aolong, Beijing's other CBA team before his retirement in 2018.
Beijing Aolong is one of the youngest teams in CBA league. The team had been targeting the playoffs at the beginning of the last season, but only won eight games in the 46-game season. Enditem