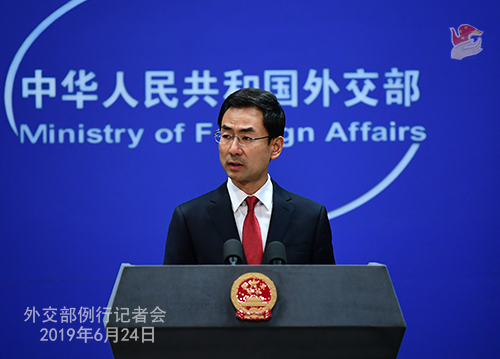 Foreign Ministry spokesperson Geng Shuang at a press briefing in Beijing on Monday, June 24, 2019 [Photo: fmprc.gov.cn]
China said Monday that it hopes the positive interaction between the Democratic People's Republic of Korea (DPRK) and the United States will provide a powerful driving force for further dialogue between the two countries.
Foreign Ministry spokesperson Geng Shuang made the remarks at a press briefing when responding to a question about China's reaction to DPRK leader Kim Jong Un receiving a letter from U.S. President Donald Trump on Sunday.
Geng said Chinese President Xi Jinping and DPRK leader Kim Jong Un had an in-depth and candid exchange of views on the current situation on the Korean Peninsula during President Xi's two-day state visit to the country last week.
The situation on the Peninsula concerns regional peace and stability, and as Xi pointed out, a great opportunity to resolve the issue through dialogue has appeared over the past year and raised expectations of the international community, Geng said.
China is ready to work with both sides and relevant parties to make continued contributions to the denuclearization process and lasting peace and stability on the Korean Peninsula, the spokesperson added.