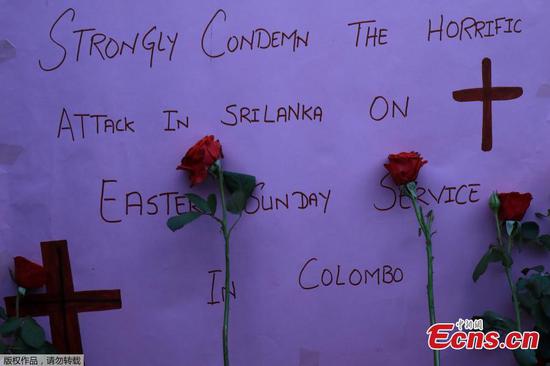 A sign and roses placed for the victims of Sri Lanka's serial bomb blasts, are displayed outside a church in Peshawar, Pakistan April 21, 2019. (Photo/Agencies)
The death toll of the multiple explosions which ripped through Sri Lanka on Sunday has risen to 359, the police said Wednesday.
Over 34 foreign nationals are among those killed, the Foreign Ministry said.
Police Spokesperson Ruwan Gunasekara said that 18 more suspects had been taken into custody in the early hours of Wednesday in continuous security operations launched by the police to arrest all those involved in Sunday's explosions.
Gunasekara said four walkie-talkies and a motorcycle were also recovered by the police from a house in Warakapola, around 56 km away from capital Colombo.
So far in total, 58 suspects have been taken into custody since Sunday.