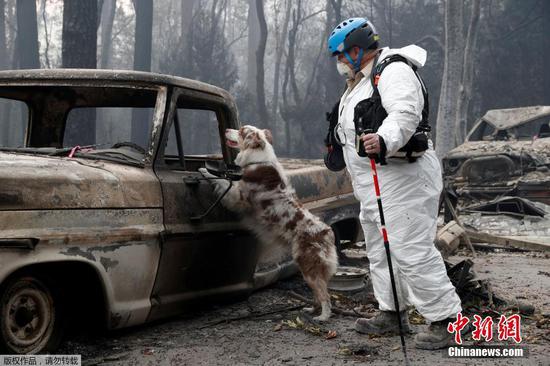 Trish Moutard, of Sacramento, searches for human remains with her cadaver dog, I.C., in a truck destroyed by the Camp Fire in Paradise, California, U.S., November 14, 2018. (Photo/Agencies)
A total of 56 bodies had been found in and around the town of Paradise ruined by a raging wildfire in Northern California, local authorities said Wednesday.
As additional eight sets of human remains were found Wednesday, the death toll from the state's deadliest wildfire had reached 56, said Butte County Sheriff Kory Honea at a daily media briefing.
The official said that 46 of them had been "tentatively identified" by search teams, but the authority still need DNA confirmation before making the names public.
The wildfire, dubbed Camp Fire, is still considered an "emergency situation," the sheriff said, nearly 5,500 firefighters are working to battle the blaze.
According to a Wednesday update from the California Department of Forestry and Fire Protection (Cal Fire), the wildfire which started Thursday scorched 138,000 acres (558.5 square km) with 35 percent contained.
Early Wednesday, the Butte County Sheriff's office released the names of some 130 people who are unaccounted after the disaster fell on the peaceful foothill town, and more than 60 on the list are elders over 70s.
The list of the missing was incomplete and it would be updated regularly, local officials said.
As search crews continued to search through the blackened ruins in and around the decimated town, Honea said: "this is a very difficult task" but "we want to be able to cover as much ground as quickly as we possibly can."