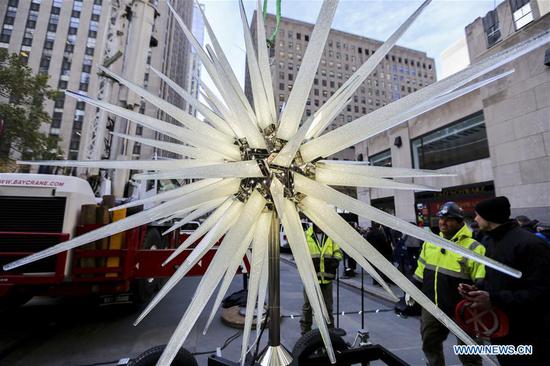 Workers prepare to hoist the Swarovski star to the top of the Rockefeller Center Christmas tree in New York, the United States, Nov. 14, 2018. A new star, which features 3 million Swarovski crystals on 70 illuminated spikes, was unveiled and raised to the top of the Rockefeller Center Christmas tree on Wednesday for the upcoming Christmas season. (Xinhua/Wang Ying)
A new Swarovski Star for Rockefeller Center Christmas tree was unveiled and raised to the top of the tree on Wednesday, marking the start of the holiday season.
Recognized globally as a symbol of hope, community and holiday cheer, the Rockefeller Center Christmas tree brings together New Yorkers and tourists in the last month of each year to celebrate a series of holidays. The tradition of the Rockefeller Center Christmas tree dates back to 1931.
The 900-pound star, designed by renowned architect Daniel Libeskind, is 9-foot 4-inches in diameter and features 70 spikes covered in 3 million Swarovski crystals. The crystals are double cone ones - which have more facets and sparkle than single cone crystals - in a mix of clear and Aurora Borealis effect.
The core of the star, made from 70 aluminum components plus LED lighting units, was shipped from a fabrication center in Rhode Island. The 70 spikes, made form glass, crystal and LED lighting, were shipped separately. The star was assembled on site at Rockefeller Center.
Libeskind said the star is inspired by "the beauty of starlight - something that radiates meaning and mystery into the world. "
"It embodies so many ideas that are at the core of my practice - meaning, light, form, symbolism and, of course, technology," he added.
Nadja Swarovski, member of the Swarovski Executive Board, said the star brings joy to people from all walks of life, and will "shine as a beacon of hope for many years to come."
The first star made by the Austrian crystal maker was unveiled in 2004. The new star is the first redesign of it.
The official tree lighting ceremony at Rockefeller Center will be held on Nov. 28.