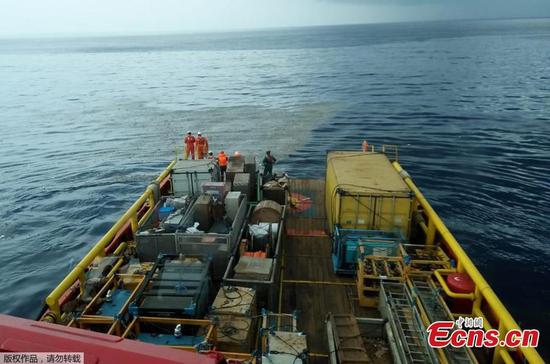 Workers of PT Pertamina stand onboard Prabu ship owned by PT Pertamina as they watch debris of what is believed from the crashed Lion Air flight JT610, off the shore of Karawang regency, West Java province, Indonesia, Oct. 29, 2018. An aircraft with 188 people on board is believed to have sunk after crashing into the sea off Indonesia's island of Java on Monday, shortly after takeoff from the capital on its way to the country's tin-mining hub, officials said. (Photo/Agencies)
Dozens of divers were attempting to reach the wreckage of a Lion Air plane that crashed into the sea off western Indonesia on Monday, while two black boxes of the ill-fated aircraft had been located, a senior rescue official said.
The plane with 189 people aboard went down off Karawang of Indonesia's West Java province shortly after taking off from Jakarta.
All the people on board, including two babies and one child, remained missing after the crash, according to the national search and rescue agency.
"We are carrying out diving to search and rescue the victims. By far, we have recovered some small wreckage on the surface of sea, but not the main body of the plane," Director of Operation of the National Search and Rescue Office Maj. General Nugroho Budi Wiryanto said.
"Our device has located the black boxes," he added, referring to the flight data recorder and the cockpit voice recorder.
A total of 30 divers from the search and rescue office, air force, army and police were conducting the operation, Wiryanto told a press conference at the headquarters of the agency.
As many as of 300 personnel from the search and rescue office, as well as soldiers and policemen had been dispatched to the scene for the search and rescue operation.
Some local sailors would also join the operation, Wiryanto added.
"The depth is favorable for diving and the weather is supportive although strong underwater currents may be an obstacle," the chief rescuer said, citing the waters with an average depth of between 30 and 35 meters.
Head of the agency Muhammad Syaugi said earlier that three ships, one helicopter and several boats had been deployed to the crash site.
The Lion Air plane with flight number of JT 610 took off from the Soekarno-Hatta international airport in Banten province on Monday morning, according to the agency.
The plane carried a total of 189 people, including 181 passengers and eight crew members, spokesman of the Transport Ministry Bambang Ervan said.
The Boeing 737 Max 8 aircraft bound for Pangkal Pinang left the Soekarno-Hatta airport in Jakarta at around 6:10 a.m. local time, he said.
"The plane had requested (the air traffic control) to return to base before disappearing from radar," Ervan told Xinhua by phone.