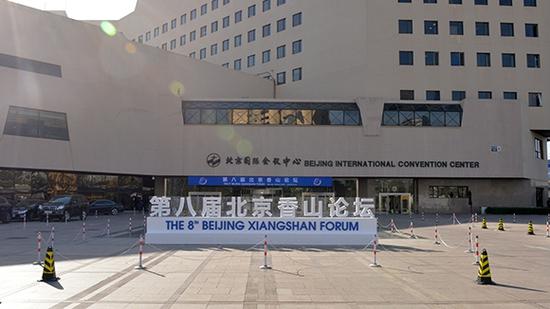 CGTN Photo.
Top legislator Li Zhanshu on Wednesday highlighted the country's dedication to win-win cooperation, multilateralism and building partnerships instead of alliance.
Li, chairman of the National People's Congress Standing Committee and a member of the Standing Committee of the Political Bureau of the Communist Party of China Central Committee, made the remarks while addressing the welcoming banquet for the eighth Beijing Xiangshan Forum.
The event, previously known as the Xiangshan Forum, was first launched in 2006, aiming to promote exchanges and cooperation among defense authorities, armed forces, international organizations and scholars.
This year's forum is scheduled from Oct. 24 to 26, with a theme of "Building a new type of security partnership of equality, mutual trust and win-win cooperation."
In his speech, Li spoke highly of the achievements and changes China had made over the 40 years of the country's reform and opening-up, saying the road of the country's reform and opening-up has been the "path of win-win cooperation between China and the rest of the world."
China has always advocated dialogue and consultation on an equal footing to properly address international issues, based on the rules and consensus, he said.
While reiterating that there is only one China, and Taiwan is an inseparable part of China, Li said that China will continue to uphold the principles of "peaceful reunification" and "one country, two systems," and strive for the reunification with utmost sincerity and efforts.
"In the meantime, we will resolutely safeguard China's sovereignty and territorial integrity, and we have the will, confidence and capability to foil any attempts seeking 'Taiwan independence,'" he said.
Li also expounded China's principles and stance over the nuclear issue on the Korean Peninsula and issues concerning the South China Sea.