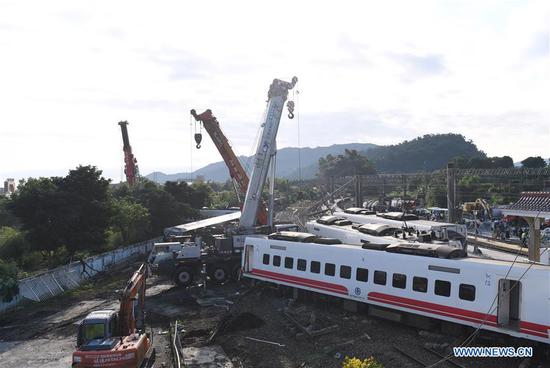 Photo taken on Oct. 22, 2018 shows the cars of the derailed train in Yilan County, southeast China's Taiwan. (Xinhua/Jin Liangkuai)
Mainland authorities on Monday mourned victims who died in a passenger train derailment in Taiwan Sunday afternoon and sent condolences to their families and the injured.
The mainland has paid close attention to the accident, said officials from the State Council's Taiwan Affairs Office and the Association for Relations Across the Taiwan Straits.
At least 18 people died and 187 were injured, and two female passengers from the mainland were among the injured, according to the island's railway authority.
The Puyuma Express No. 6432 bound for Taitung from Shulin Station with 366 passengers on board derailed at 4:50 p.m. at Xinma Station, Yilan County.
All eight cars of the express train derailed, with three of them overturned. The cause of the derailment is still under investigation.
The accident, the worst of Taiwan railways in more than three decades, happened on a popular line along the island's east coast. Train services were partially resumed Monday morning.
Read: Two mainland passengers injured in Taiwan train derailment
18 dead in Taiwan train derailment