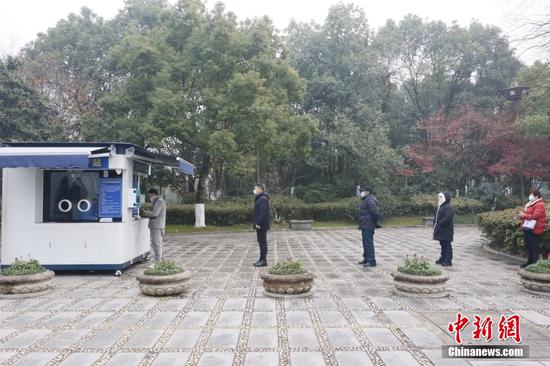 People queue up in front of an outdoor fever treatment station in Huzhou, Zhejiang Province, Dec. 28, 2022. (Photo/China News Service)
(ECNS) -- Outdoor fever treatment stations have been set up in Huzhou, Zhejiang Province, to provide one-stop medical services for COVID patients as local hospitals are under great pressure from a large amount of patients.
The fever treatment station at Jiayuan Square in the city is converted from a nucleic acid sampling booth, enabling COVID patients with mild symptoms to register, see a doctor and get medicines on the spot within 10 minutes.
Anji, a county of Huzhou, has set up five fever treatment stations, each of which provides antipyretics, Chinese patent drugs, cough medicines and Chinese herbal medicine, which can effectively relieve the pressure of medical institutions, said Shen Wei, an official from local health commission.
According to Shen, the medical staff working at these outdoor fever stations were dispatched by local medical institutions and the quick treatment has saved time for patients.
"But these fever treatment stations are short of medicines so medical staff have to ration medicines to meet patients' urgent needs," said Shen.
Except for Anji, other places in Huzhou have transformed nucleic acid testing booths into temporary fever treatment stations.
"It took me about 10 minutes, much faster than going to a hospital. Besides, doctors also tell us how to deal with fever and guide us to take medicine," said Yin Weizhong, a villager from Shuikou Township in Changxing County, who took his daughter to see a doctor.
Wuxing district of Huzhou City also transformed some nucleic acid testing booths into temporary fever clinics.
On Wednesday, Zhejiang announced that it will distribute anti-epidemic service bags to citizens aged over 60. Each service bag includes antipyretic analgesics for three-day use, a box or bottle of heat-clearing and detoxicating Chinese patent medicine, 10 surgical masks, and a bottle of disinfectant.
In addition, each service bag will be attached with anti-epidemic guidelines to guide the old people to protect themselves well and take medicine rationally.
Apart from Zhejiang, many cities in China have distributed anti-epidemic service bags to citizens, such as Beijing, Wuhan in Hubei Province, Changzhou and Nanjing in Jiangsu Province, Hefei in Anhui Province, Nanchang in Jiangxi Province, and Fuzhou in Fujian Province.