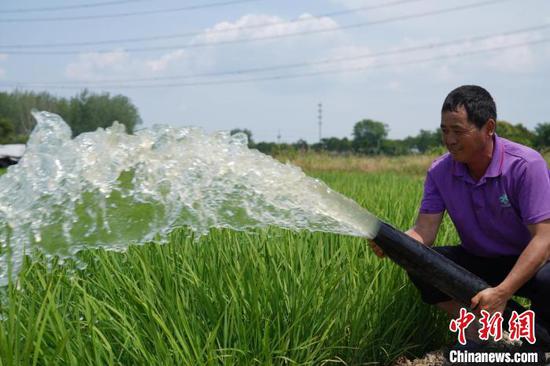 A farmer irrigates crops in Feixi County, Anhui. (Photo/China News Service)
(ECNS) -- Over 1.21 million people have been mobilized and more than 760 million yuan (about $112 million) has been allocated for drought relief in 12 cities and 75 counties south of the Huaihe River in east China's Anhui Province.
Anhui has received an average rainfall of 350 millimeters since the flood season began on May 1, 40 percent less than the same period in normal years.
It has seen no rainfall since July 21, and some areas south of the Huaihe River have had no effective rainfall for 24 consecutive days.
It saw 36 high-temperature days on average from June 1 to August 14, 20 days more than the same period in normal years, hitting the highest level since 1961.
The water stations in the province have pumped more than 900 million cubic meters of water since August 1, which has met water demands, and more than 25 million mu (about 16.7 thousand hectares) of land have been irrigated.
Both the main streams and tributaries of the Yangtze River, Huaihe River and Xin'anjiang River have significantly less water. The levels at all water control stations in the main stream of the Yangtze River in Anhui Province rank the lowest since 1954.
Weather forecasts say that high temperatures and low-rainfall days will continue in Anhui, and that soil moisture in most areas south of the Huaihe River will be further lost, aggravating drought conditions.