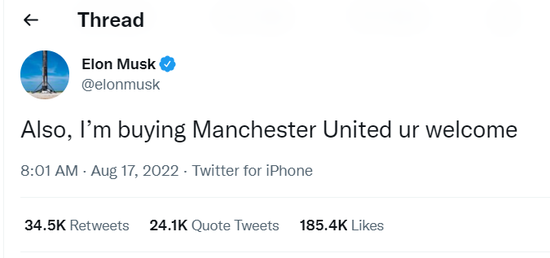 Elon Musk said he is buying Manchester United via Twitter on Wednesday.
Former Premier League giants Manchester United, owned by the American Glazer family, are now at the bottom of the table for the first time in 30 years after a second straight defeat, The Paper said on Wednesday.
According to the Forbes list, Manchester United is currently worth $4.6 billion, making it the third largest football club in the world, following Real Madrid and Barcelona.
With a fortune of $270 billion, Musk remains the world's richest man, according to the Forbes Rich list.
It's worth noting that it's impossible to tell whether Musk was just joking because Musk had previously made a big promise on Twitter to buy Coca-Cola, but then failed to do so.
For now, Musk is still in the midst of a $44 billion takeover bid for Twitter, which Musk has rejected and is now being sued by Twitter.