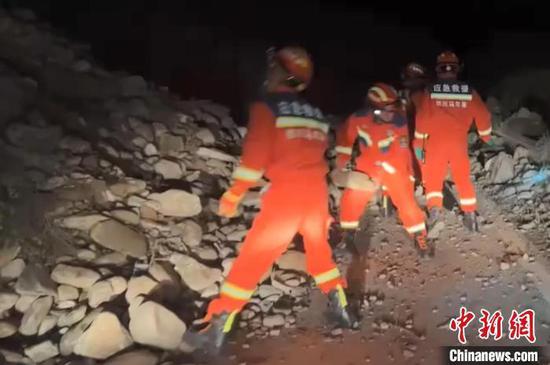 Rescuers clear away the rubble on the way, June 10, 2022. (Photo provided by Sichuan Forest Fire Brigade)
(ECNS) -- Several earthquakes hit the Maerkang City of Aba Tibetan-Qiang Autonomous Prefecture in southwest China's Sichuan Province in the early morning of Friday, with the strongest one being 6.0 magnitude at a depth of 13 kilometers, according to the China Earthquake Networks Center.
No casualties have been reported so far.
Disaster relief work is underway.
A total of 15 fire cars with 93 firefighters from Aba have been sent to the spot first, and 24 stayed in the urban area of Maerkang to patrol and transfer people. Another 253 firefighters with 39 fire cars ensued to support the relief work.
Weather forecast said there will be a lot of rain in Maerkang in the next three days and reminded local people to pay attention to the rain and geological disasters and wear warm.