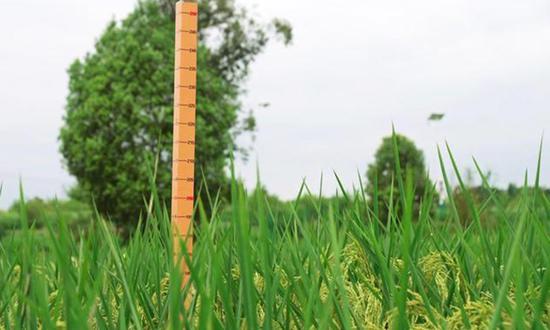 Two meter high giant rice shoots grow in Changhong Village of Chongqing. (Photo/Xinhua)
(ECNS) -- Giant rice shoots growing in a field at Changhong Village of Chongqing are expected to yield more than 800 kilograms per mu (667 square meters) this year, according to the Chongqing Branch of National Hybrid Rice Engineering Research and Development Center.
In the experimental field, the sorghum-like rice shoots stood at an average height of two meters.
Chen Yangpu, deputy director of the center, said that a giant rice plant is usually twice as tall as a conventional one.
One rice ear contains about 800 grains. The rice is not only resistant to pests, but also to flooding, salt and alkali. It can also provide shade and shelter for aquatic organism and some mammals.
The center plans to expand the field next year while developing a pilot project of "rice-fish symbiosis" to help farmers increase their income.
The giant rice was a dream of Yuan Longping, the father of China's hybrid rice, who died in Changsha on May 22 at the age of 91.
Chinese netizens hailed it as a "dream coming true" for Yuan.