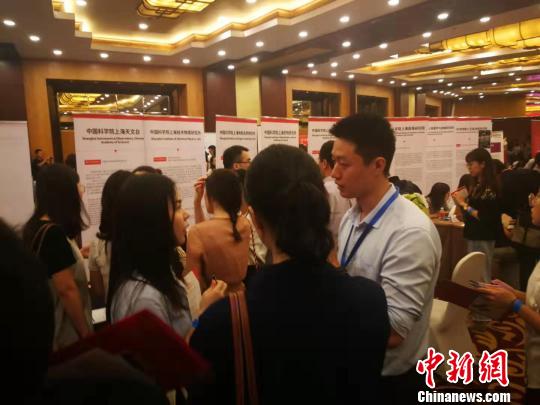 Overseas returnees are seen at a job fair in Shanghai on August 10, 2019. (File photo/China News Service)
(ECNS) -- More than 70 percent of Chinese students who have completed their educations overseas prefer jobs at China's private companies and foreign-funded enterprises, according to a report by China's educational and recruitment service providers.
Returned Chinese students interested in state-owned enterprises accounted for just 13.4 percent, and those who sought jobs at public institutions or governmental departments were less than 10 percent, the report said.
The report also said that more than 90 percent of survey respondents encountered various impediments while job-hunting in China, including a lack of work experience and competition.
The top five industries attractive to foreign-educated Chinese students were finance (15.2 percent), information technology and software (13.8 percent), manufacturing (11.3 percent), education (9.7 percent), and culture, sports and showbiz (7.1 percent).
Chinese students who received education abroad could earn 80,000-150,000 yuan ($11,000-$21,000) a year on average in their first three years on the job, while that salary rose to 200,000 yuan for 30 percent of the graduates after five years of work.
The report said 74 percent of students believed they could recover the cost of studying abroad in five years.
Over 39.57 percent of returned students chose to work in Beijing, Shanghai, Guangzhou and Shenzhen, China's four first-tier metropolises, while nearly 31 percent went to work in newly emerged boom-cities. One city of note was Hangzhou, where the number of returned students from other Chinese regions was twice that of local students.
The report said that when considering a position, the most important things for job-seekers were whether a city had a strong economy and rich opportunities as well as an attractive lifestyle, followed by salary level and development opportunities.
The number of Chinese students seeking education abroad increased from 140,000 in 2007 to 662,000 in 2018, according to the ministry of education, while during the same period the number of returned students rose by an average 24 percent each year, from 40,000 to 519,000.
The report was published by the Education International Cooperation Group, Chinese recruitment service provider 51job.com, and YingJieSheng.com, a leading job search portal for college students in China.