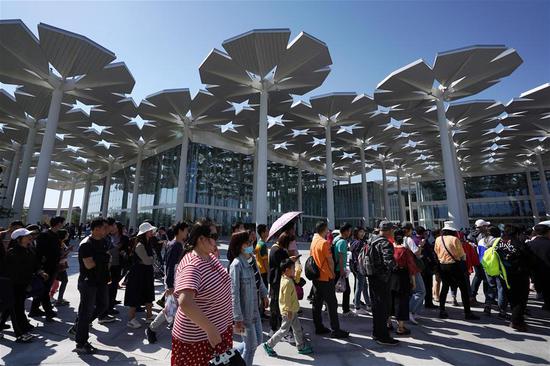 Tourists visit the International Pavilion of the International Horticultural Exhibition 2019 Beijing in Yanqing District of Beijing, capital of China, May 1, 2019. (Xinhua photo)
Special: Beijing int'l horticultural exhibition 2019
(ECNS) - The site for the 2019 Beijing International Horticultural Exhibition will be renovated into a base to promote public awareness of ecological conservation and a tourist attraction, said an official on Tuesday.
Various natural landscapes and gardening creations have been built at the venue, such as a forest and wetland system, said Zhou Jianping, executive deputy director-general of the expo coordination bureau.
Located at the foot of the Great Wall in Yanqing, the venue is also ready to open to tourists as it is easily accessible and supported by all kinds of facilities, said Zhou.
The venue will also be used to support the 2022 Olympic Winter Games and promote Yanqing's gardening industry, it was added.
Sprawling over an area of 503-hectare, the expo, themed "Live Green, Live Better," is the world's largest of its kind. It opened to the public on April 29 in Yanqing District of Beijing and lasted until Monday.