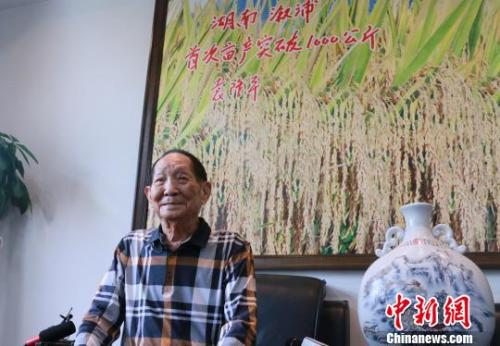 87bb2d8d6f2540559ced6ea576b39714
Special: 70th birthday of PRChina
(ECNS) -- Yuan Longping, China's "father of hybrid rice", said on Thursday his team may achieve an average yield of 18,000 kilograms of rice per hectare next month.
After China's Ministry of Agriculture launched a super-hybrid rice breeding project in 1996, the team has continued to set new records in yields, meeting five targets of 10,500 kg, 12,000 kg, 13,500 kg, 15,000 kg and 16,500 kg per hectare.
Currently, four test fields in China are trying to break the new target of 18,000 kg per hectare.
Yuan said the rice is growing well in his test field in Changsha, Hunan Province, and that he might achieve the yield target in October.
The scientist said he still has two dreams ahead – improving average yield of hybrid rice and sharing the rice variety with the world.
"If 50 percent of the world's rice paddies were planted with hybrids, rice production could increase by another 2 tons per hectare, so some 500 million more people could be fed," said Yuan.