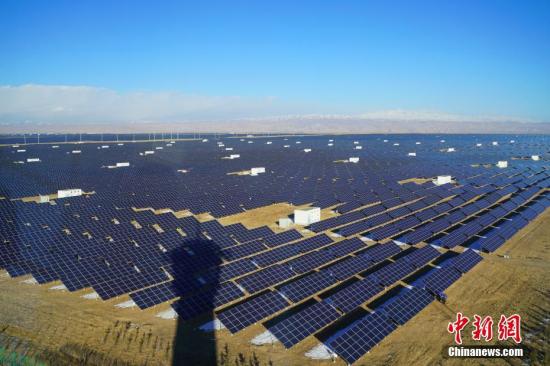 Solar panels were installed in a photovoltaic power park in Qinghai Province. (File photo/China News Service)
Special: 70th birthday of PRChina
(ECNS) -- China has been by far the biggest investor in renewable energy capacity over this decade, having committed $758 billion between 2010 and the first half of 2019, according to the Global Trends in Renewable Energy Investment 2019 report released by the United Nations Environment Programme (UNEP) on Thursday.
The U.S. took the second spot with investment of $356 billion, while Japan ranked third with $202 billion. Europe as a whole invested $698 billion in renewables capacity over the same period, with Germany contributing the most at $179 billion, and the United Kingdom, $122 billion.
In the same decade, renewables capacity quadrupled from 414 GW in 2010 to about 1,650 GW. Half of the $2.6 trillion in renewable energy capacity investments was directed at the solar sector. Solar capacity alone will have risen to more than 26 times the 2009 level — from 25 GW to an estimated 663 GW.
Renewables capacity investment in 2018 reached 272.9 billion, triple the investment in fossil fuel generation. Renewables generated 12.9 percent of global electricity in 2018, avoiding 2 billion tons of carbon dioxide emissions.
The report said the cost-competitiveness of renewables has also risen dramatically over the decade. The levelized cost of electricity (a measure that allows comparison of different methods of electricity generation on a consistent basis) is down 81 percent for solar photovoltaics since 2009, while the same for onshore wind is down 46 percent.
"Investing in renewable energy is investing in a sustainable and profitable future, as the last decade of incredible growth in renewables has shown," said Inger Andersen, executive director of the UNEP.
However, challenges still lie ahead, as global power sector emissions have risen about 10 percent over this period, he said.
"It is clear that we need to rapidly step up the pace of the global switch to renewables if we are to meet international climate and development goals,"he added.