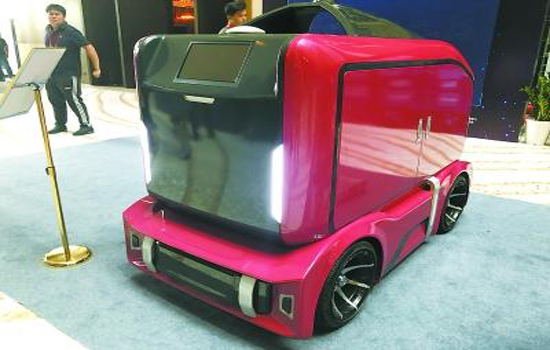 An unmanned delivery vehicle with 5G wireless technology debuts in Beijing, Sept. 5, 2019. (Photo/Beijing Daily)
Special: 70th birthday of PRChina
(ECNS) -- An unmanned delivery vehicle with 5G wireless technology made its debut Thursday in Beijing during a forum organized by the Beijing Bicycle Industry Association.
The 1.6-meter vehicle, a joint creation by Beijing Institute of Technology's company CentralCloudIV and another startup called Dewei Technology, is still in trial operation.
Guan Chaowen, head of the research team from Beijing Institute of Technology, said the vehicle has a carrying space of tens of square meters, enough for dozens of express parcels at one time. After a full charging, the vehicle can run for 80 to 100 kilometers.
5G technology enables the vehicle to complete remote operations in complex scenarios and the car's movements are more precise and controllable, Guan said.
Chen Zhenbo, CEO of Dewei Technology, said the unmanned vehicle will be used to deliver express parcels to customers only after completing a series of tests.
Guo Jinzhi, president of the Beijing Bicycle Industry Association, said the association is also drafting more rigorous industrial standards for electronic bikes used for express deliveries.