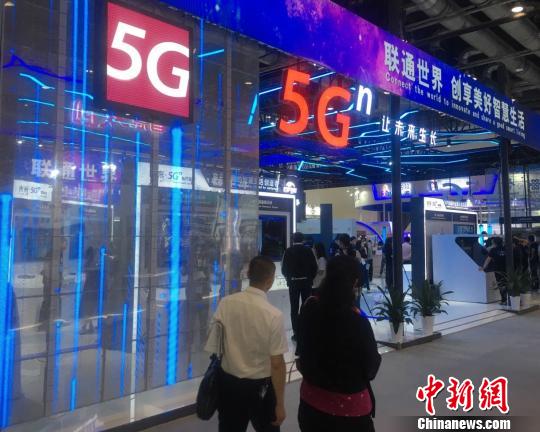 People visit the 2019 China International Fair for Trade in Services in Beijing on May 31, 2019. (Photo/China News Service)
(ECNS) - The 5G era is rapidly approaching as China's Ministry of Industry and Information Technology on Thursday granted 5G licenses for commercial use to China Telecom, China Mobile, China Unicom and China Broadcasting Network.
China mobile said it will speed up the development of high-quality 5G network and promote the "5G+" plan. It plans to provide 5G service in more than 40 cities by the end of September this year. Customers need not change their cards or numbers to enjoy 5G services, and that the follow-up service will continue to expand, it was added. Besideds, it will launch a 5G innovation industry fund with a total size of 30 billion yuan ($4.3 billion).
China unicom said it has taken the lead in launching 5G trial networks in 40 Chinese cities, setting up various scenarios for 5G industry applications. It will also kickstarta recruitment campaign for 5G friendly experience users.
China telecom said it has joined hands with many domestic and foreign enterprises to carry out 5G trial network construction in 17 pilot cities.
These moves will bring signifcant changes to people's lives.
The 5G network can offer data speeds much faster than the current 4G standard and enable application of technologies in a wide range of industries. Companies from Internet giants to startups have already begun to prepare for using the superfast next-generation mobile network.
Experts said 5G will finally give a real thrust to the development of autonomous cars because the vehicles produce, transfer and analyze enormous amounts of data.
It will also play a pivotal role in drones and unmanned ships. China Unicom tested an unmanned ship using 5G at West Lake in Hangzhou in April that allowed technicians to remotely control the vessel entirely with an app as it patrolled and monitored water quality. The ship can follow a predetermined route and automatically avoid obstacles.
China Unicom also showcased application of 5G technology in the medical sector during January in Fuzhou City, Fujian Province, where a surgeon at a site 50 kilometers away controlled a robot to perform liver surgery on a patient.
Data from China Mobile revealed that by 2030, investment in China's 5G-related telemedicine sector will reach 64 billion yuan.
The network can also facilitate the use of augmented and virtual reality in daily life. Video bloggers can live broadcast with VR and provide real immersive experiences. Ultra HD video (4K/8K) is also expected to become popular after the technology is commercialized.
According to telecom operators, remotely controlled cars, mobile games, cloud computing and cloud gaming will be fundamentally reshaped by 5G.
Mobile communications industry body GSMA predicted that China is expected to become the world's largest 5G market by 2025 with 430 million 5G connections, one-third of the global total.
China Mobile also estimated cars equipped with 5G access will reach 50 million by 2030.