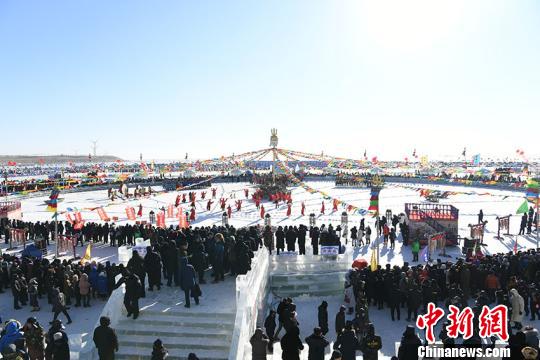 Chagan Lake winter fishing festival kicks off on Dec 28. (Photo: China News Service/Zhang Yao)
(ECNS) - A time-honored winter fishing festival at northeast China's Chagan Lake set a new record with the first catch sold for 999,999 yuan ($146,000) Friday.
Bidding for the fish started at 99,999 yuan. After several rounds, a company paid the record price.
In Mongolian 'chagan' means white and holy, with the lake also referred to as Holy Water Lake. Located in the north of Songyuan City in Jilin Province, it is one of China's 10 largest freshwater lakes.
Nearly 10,000 visitors from home and abroad braved the cold weather to celebrate the festival, which still uses ancient fishing techniques and rituals, some formed 1,000 years ago.
In the early Friday morningg, fishermen arrived in horse-drawn carriages, cut holes in the frozen lake and cast their nets. Hours later, wearing sheepskin coats, hats made from dog hide and red silk surrounding their waists, they danced and observed other rituals to pay tribute to the lake and pray for prosperity.
With the annual festival becoming a draw for tourists over the past 17 years, the local government has introduced effective measures to protect fishing resources and the environment. In 2008, the festival was recognized as a national intangible cultural heritage.