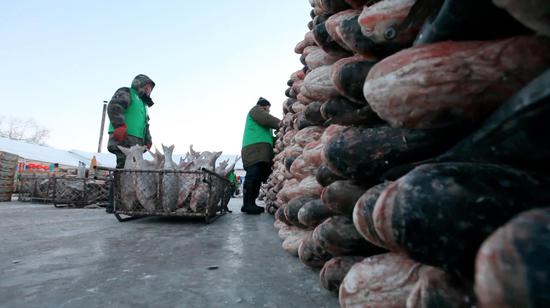 Workers from Chagan Lake Fish Farm in northeast China's Jilin Province packs frozen fish, ready for consumers across China. With the temperature hovering around minus 20 degrees Celsius, fish caught by the giant fishing net freeze only minutes after being pulled out of water. /CGTN Photo
The annual tradition of ice fishing is underway on northeastern China's Chagan Lake. Located in Jilin Province, northeast China, the lake is one of the 10 largest freshwater lakes in the country and can produce thousands of tons of carps each year. Roughly 1,500 tons are expected for this winter.
Teams of fishermen usually arrive at Chagan Lake around dawn. Pushing the fishing net under the frozen lake surface is like needling a thread and the fishermen have to make holes every 15 meters first, and then use a wooden stick to guide the net to draw a roundish shape underneath the frozen lake surface. The fishing net is 2,000 meters long, and horses are used to pull the net out of water. Around noon, fishermen start to secure the net in a wheel so that the horses can help retrieve it.
Zhang Wen, in his late 50s has spent most of his life ice fishing. He is the fishing master leading a team of fishermen.
"During the process of drawing the net, fishermen are folding it as it is slowly pulled out of the water by the horse-towed wheel," said Zhang
The folding is to prevent the net from tangling and to make sure it's ready for the next day. Fish get caught in very end of the net, and the bighead carp usually weigh several kilograms each. After partnering with e-commerce platforms such as JD.com and Tmall, these fish can be sold easily.
"Our sales had been slow until we started to sell them online. Almost half of our catch is now sold online," said Zhang Wenping, the deputy director of the Chagan Lake Fish Farm.
Zhang adds that with the largely increased access to fish from Chagan Lake, the farm's popularity is also on the rise, with the prices up by eight to 10 percent.