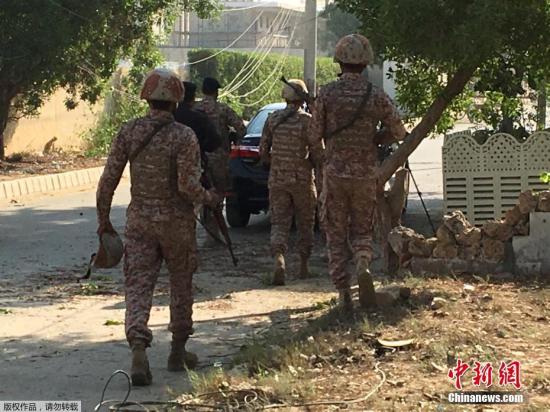 Pakistani police officers are seen near the Chinese embassy in Karachi, Pakistan November 23, 2018. (Photo/Agencies)
A Pakistani separatist leader, believed to be the mastermind of last month's terror attack on the Chinese consulate in Karachi, has been reportedly killed along with five associates in a suicide blast in Afghanistan.
Aslam Baloch, a top commander of the Balochistan Liberation Army (BLA), was accused by Pakistani authorities of masterminding the November attack which left seven people dead. BLA, among the several insurgent groups fighting in Pakistan's restive southwestern Balochistan province, has vowed to continue its fight for independence.
Baloch was killed on Tuesday along with five associates in a blast in Afghanistan's southern Kandahar province, BLA said in a statement issued late Wednesday which was cited by both the AP and AFP news agencies.
Kandahar police chief Tadin Khan confirmed that the suicide bombing took place in Kandahar, the AFP reported. Another Afghan official who spoke anonymously told the agency that Baloch and a second member of the BLA were the targets of the attack.
Pakistan's Samaa Television reported that Aslam was killed along with a number of his commanders in the suicide attack in Aino Maina.
On November 23, three militants carried out an armed assault on the Chinese consulate in Karachi killing four people, including two policemen and as many civilians. All the attackers were killed by the security forces. No Chinese nationals were hurt in the attack.
The BLA claimed responsibility for that assault, accusing China of "expansionism on Baloch soil" and warning the Chinese to leave or "be prepared for continued attacks".
China has poured billions of dollars into the South Asian country in recent years as part of the China-Pakistan Economic Corridor (CPEC), a massive infrastructure project that seeks to connect its western region of Xinjiang with the Arabian Sea port of Gwadar in Balochistan province.
Pakistan sees the project as a "gamechanger", but it presents an enormous challenge with a range of armed groups operating in areas hosting the corridor.
Since the beginning of the project, fighters have repeatedly attacked construction sites, blowing up numerous gas pipelines and trains and targeted Chinese workers.
Balochistan, on the borders of Afghanistan and Iran, has rich mineral and natural gas reserves but is Pakistan's poorest province.
In the aftermath of the consulate attack, Chinese State Councilor and Foreign Minister Wang Yi had warned that any attempt to undermine Beijing's friendship with Islamabad is doomed to fail, while thanking Pakistani police for their efforts in protecting Chinese nationals in the consulate.
Chinese citizens from around the world also initiated a fundraising campaign to support the families of the two Pakistani policemen, who were killed in the terror attack.
Condemning the attack, Wang had also urged Pakistan to conduct a thorough investigation so that such incidents do not occur again.