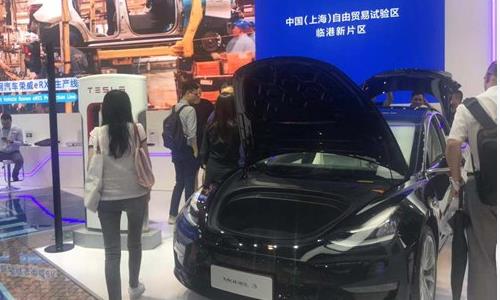 Visitors gather at Tesla's booth at the 2019 World Artificial Intelligence Conference in Shanghai on Thursday. (Photo: Xie Jun/GT)
Tariffs, depreciation of yuan mean pricing pressure for U.S. car producer
Tesla's Gigafactory in China will officially start production in December, an employee of Tesla China confirmed to the Global Times at this year's World Artificial Intelligence Conference (WAIC) on Thursday.
However, an expert warned that the localization of production is unlikely to offset the pricing pressure faced by the company.
Tesla's Gigafactory 3, located in Shanghai's Linggang area, was approved by the local government in 2018 and is designed with a potential production capacity of 250,000 vehicles a year.
Work on the facility started in January. On August 7, the company said on its Weibo account that the factory will be put into production by the end of this year.
Although the factory will open soon, Tesla still faces immense pressure to maintain its price advantage over its competitors due to depreciation of the yuan and potential tariffs on U.S. automobiles and auto parts, an expert said.
Tesla is one of the U.S. companies that's been caught in the crossfire of the China-U.S. trade war. At this year's WAIC, a sales employee from Tesla confirmed to the Global Times that Tesla will raise the prices of all of its vehicles in China by 1-5 percent, effective Friday. It may raise its prices again in December, according to media reports.
There are two reasons for the price hikes: the depreciation of the yuan and the prospect that vehicle parts may face higher tariffs because of the trade war, Feng Shiming, a veteran car industry analyst, told the Global Times on Thursday.
"Tesla adopts a fixed pricing strategy on its products," Feng said. "That means any fluctuation of its costs will be reflected directly in its market prices."
According to Feng, the price rise on Friday will be to offset the latest depreciation of the yuan against the U.S. dollar. The possibility of tariffs in December is likely to induce another round of price hikes.
China on August 23 said it will resume a 25 percent tariff on automobiles and 5 percent on auto parts imported from the U.S. starting from December 15 as countermeasures to the pending U.S. tariffs.
"Although production is localized in Shanghai's Gigafactory, Tesla's cars will still be vulnerable to tariff hikes because they still heavily rely on imported parts," Feng said. "For its domestically produced cars, about 70 percent of the parts are imported from the U.S., which means prices will be heavily affected in December if the tariffs take effect."
The current Chinese average tariff on imported automobile parts is 6 percent and an additional 5 percent tariff in December will make U.S. auto parts subject to an 11 percent tariff. The increase in tariffs on auto part imports from the U.S. will dwarf the price advantage of domestic production, because the company will still need to buy some U.S. components.
"The cheapest Model 3 at the moment costs 328,000 yuan ($45,879), but after a 5 percent price rise it will reach around 350,000 yuan. Compared with vehicles in a similar price range, such as Mercedes Benz C-Class and BMW 3 Series, it will be hard for Tesla to prevail in fierce its price competitiveness in the local market," Feng said.