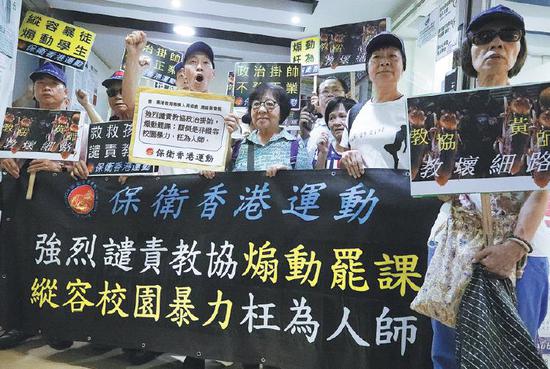 Members of the Defend Hong Kong Campaign protest against the Hong Kong Professional Teachers' Union's call for a strike at the office of the teachers' union in Hong Kong on Wednesday. (Photo/CHINA DAILY)
As the new school semester approaches, groups in the Hong Kong Special Administrative Region voiced resolute opposition on Thursday to any individual or organization planning to bring politics onto campuses and into classrooms, including browbeating students into skipping school to attend rallies or bullying those who hold different political views.
The concerns have been fueled by a recent call by Demosisto, a local political party, along with several student groups, for all of the city's secondary school students to skip class beginning Monday, without providing a more specific time frame.
Their statements also come amid widespread worries of bullying of students, especially children of the city's police officers.
At a news conference on Thursday, the Democratic Alliance for the Betterment and Progress of Hong Kong, the city's largest political party in the Legislative Council, stressed firm opposition to the school strike campaign, saying politics should never trump education.
Recently, many parents have expressed concern to the alliance over possible effects on their children's studies from a school strike, said alliance Chairwoman Starry Lee Wai-king. They also feared their children might be targeted or bullied by schoolmates for not joining the strike.
Responding to those concerns, the alliance strongly opposed the strike as it might drag innocent students into the political conflict and disrupt the harmonious atmosphere on campuses.
The alliance launched an anti-strike campaign on Thursday morning. It will use roadside stands across the city to promote anti-strike messages and offer assistance to concerned parents and students.
On Thursday morning, some alliance members also met with Secretary for Education Kevin Yeung Yun-hung to share suggestions on how to cope with the planned strike.
Also on Thursday, the New Territories School Heads Association appealed to principals and teachers to firmly oppose the school strike and show up for work as scheduled.
In a statement, the association expressed the hope of maintaining a "peaceful and orderly campus" by shielding schools from politics.
Meanwhile, some local groups have also raised concerns over possible bullying or discrimination on campuses in the coming semester.
In a meeting with Under Secretary for Labor and Welfare Caspar Tsui Ying-wai, some representatives of local police associations expressed worries that the children of police officers might again fall victim to bullying.
Due to a growing distrust of police officers, over the past two months many officers and their family members have been victims of personal information leaks and verbal abuse.
Meeting with reporters after the meeting, Chairman of the Junior Police Officers' Association Lam Chiwai said school bullying of police officers' children will not be tolerated under Hong Kong's educational system. He called on teachers to firmly oppose any such tendency and show zero tolerance for these cases.
In the face of growing concerns, the SAR government has already taken precautions with the heads of several bureaus announcing countermeasures in an interdepartmental news conference on Thursday afternoon.
Secretary for Education Yeung issued a letter on Thursday addressed to all Hong Kong parents, appealing to them to better communicate with their children.