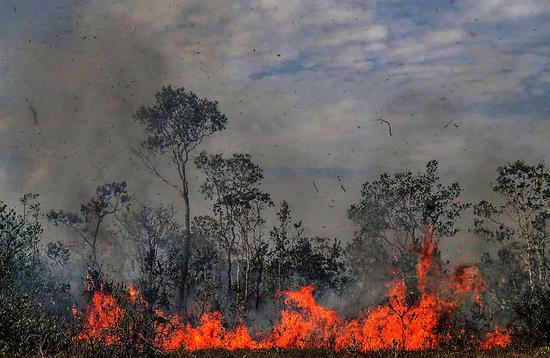 Photo taken on Aug. 26, 2019 shows a fire consuming trees in Manicore, the state of Amazonas, Brazil. (Gabriela Biro/Agencia Estado/Handout via Xinhua)
Brazilian President Jair Bolsonaro on Wednesday said South America's Amazonian countries will hold a summit to discuss ways to sustainably exploit the rainforest.
The Sept. 6 gathering in the Colombian city of Leticia comes in the wake of devastating forest fires.
Bolsonaro made the announcement at a breakfast meeting in Brasilia with his Chilean counterpart Sebastian Pinera.
Global concern over the destruction of the Amazon sparked a spat between Bolsonaro and French President Emmanuel Macron, who called on the international community to take steps to protect the world's largest tropical rainforest. Bolsonaro accused him of impinging on national sovereignty.
"By minimizing our sovereignty, he has awakened the patriotism of the Brazilian people and other countries here in South America that are part of the Amazonian region," said Bolsonaro.
"So much so that on Sept. 6 we will get together with these presidents, except Venezuela, to discuss a single policy on environmental preservation and sustainable exploitation in our region," said Bolsonaro.
Brazil, Peru and Colombia are home to most of the Amazon rainforest, though parts of it lie in Venezuela, Ecuador, Bolivia, Guyana and Suriname.
Macron also spearheaded a financial offer of 20 million U.S. dollars from G7 countries to help battle the blaze in the Amazon, an offer Bolsonaro has so far rejected, and Pinera encouraged Brazil to accept.
Regarding the aid offer, Pinera said "the Brazilian Amazon is Brazilian, but it's true that many countries want to cooperate" to put out the fires.
Bolsonaro has said he will consider accepting the aid if Macron apologizes for calling him a "liar" and retracts remarks about the internationalization of the Amazon jungle.