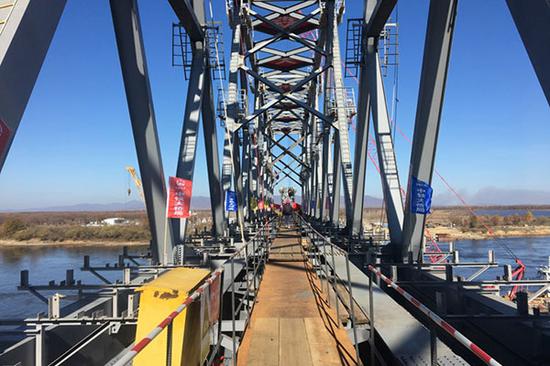 Photo taken on Oct 13, 2018 shows the Chinese part of the China-Russia railway bridge linking city of Tongjiang in Northeast China's Heilongjiang province with Nizhneleninskoye in Russia. (Photo/Xinhua)
The first cross-river railway bridge connecting China with Russia has connected from both sides on Wednesday, further paving the way for the bridge to be operational within this year.
The bridge, across the Heilongjiang River, known as the Amur River in Russia, will connect the city of Tongjiang, in northeastern China's Heilongjiang province, with Nizhneleninskoye in Russia.
The main bridge spans 2,215 meters, with 1,886 meters of that standing in China. Construction of the bridge, which has a designed annual throughput capacity of 21 million metric tons, began in February 2014.
Qi Jintian, secretary of Tongjiang bridge construction headquarters, said at present, the constructions on the Chinese side have been completed.
The newly built connecting point that links construction by the Chinese side and that by the Russian side is located in Russia.
However, the railways in Russia have not been laid out completely yet. Qi said the actual completion of the bridge is expected to be achieved in July.
Li Huachao, a chief engineer of China Railway Major Bridge Engineering Group Co Ltd, or MBEC, which is in charge of construction of the bridge on the Chinese side, said the completion of the bridge will end the history when the Chinese and Russian borders do not have a cross-river railway bridge.
The project also serves to develop an international corridor connecting China's northeastern railway networks with Russia's Siberian railway networks.
"The shipping capacities between the two sides will be greatly enhanced as they will no longer be affected by seasonal weather conditions, which often have an impact on river shipping," said Li.
According to Song Kui, a researcher of the Heilongjiang Provincial Academy of Social Sciences, the bridge is expected to be a major transportation corridor between China and Russia and plays a significant part in promoting trade globally and in Northeast Asia.
He said the operations of the bridge will also help the revitalization of Northeast China and boost trade and the economy in Heilongjiang province.
According to Song, in 2018, exports and imports from Heilongjiang province to Russia were valued at 122 billion yuan ($18.2 billion), or 69.8 percent of the province's total export and import value and 17.3 percent of China's exports and imports to Russia.
The number is also a growth of 64.7 percent year-on-year, said Song.
Among them, exports from Heilongjiang province to Russia have reached 7.46 billion yuan, down 29.5 percent. Imports from Russia to the province have grown by a record high of 80.4 percent to 114.6 billion yuan.