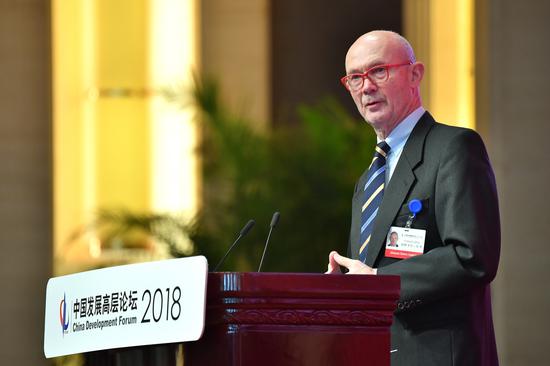 Pascal Lamy delivers a speech at the 2018 China Development Forum in Beijing on March 24. (Li Xin/China Daily)
Pascal Lamy, former director-general of the World Trade Organization, said he believes the reform and opening-up was a major turning point in world history.
The 71-year-old also says there is an increasing understanding of the initiative that was launched by Deng Xiaoping 40 years ago this week at the Third Plenary Session of the 11th Central Committee of the Communist Party of China in Beijing.
"The West regards this as a major shift, and we know that in Chinese history we've had periods of opening and periods of closing, and I think that was a real shift," he said.
Lamy, who helped negotiate China's entry into the WTO in 2001-a landmark event in the country's opening-up journey-was speaking at the China Europe International Business School, or CEIBS, in Shanghai, where he was recently made a distinguished professor.
He said the events in 1978 did not completely register at the time, as he was in his early 30s and not working in international affairs.
"I was a young French civil servant, not connected at all with global and commercial issues," he said.
Eight years later, Lamy was brought right into the China development story when he made his first visit to the country as chief of staff for Jacques Delors, then president of the European Commission.
On that visit, he met with Deng in Beijing's Great Hall of the People.
"It created quite an impression for a young guy like myself. He was smoking a lot and very witty," he said. "He (Delors) was meeting Deng, and I was attending the meeting. It was then I started to take a broader look at the world."
Lamy, who in the late 1990s and early 2000s served as trade commissioner for the European Commission in Brussels, was to be an important player in the talks that led to China joining the WTO.
He negotiated directly with the country's premier, Zhu Rongji, and its trade minister, Shi Guangsheng, to set terms for China's entry.
"It was a very lengthy process because, like with all trade negotiations, they are very complex," Lamy said, adding that Zhu "had to create a very careful balance" between those whose arms he needed to twist to open up more and those who resisted.
Lamy said there were two key issues to resolve during the lengthy negotiations.
"The biggest questions were market access-China had to open its markets on goods, agriculture, industry and, to some extent, services. Although there was a bit less emphasis on the latter," he said. "And then there was the issue of China abiding by WTO rules on intellectual property. Market access and IP protection were the two big wins for China's trade partners."
Although China's economic progress after 1978 was already impressive by the time of the negotiations, Lamy said there was no sense that the momentum would continue for the country to become the world's second-largest economy within a decade of entry.
"Those who had the long view knew that China was developing fast; the growth performance was already impressive. Probably few thought it was sustainable, but it has proved to be so," he said. "This is the major achievement of the Chinese system. China growing at 6 to 6.5 percent now (given the size of the economy), means much more than it growing at double-digit rates at the time (of entry)."