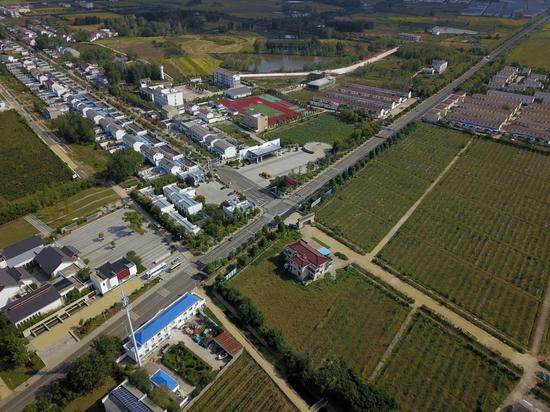 Aerial view of Xiaogang, Anhui province. The village, birthplace of China's rural reform, was at a crossroad in 1978 when the collectivized farming policy had been in force nationwide for about 20 years. (Photo by Zhu Lixin/chinadaily.com.cn)
Special: 40YearsOfReform
With the historic move to subdivide common farmland into family plots in 1978-after the collectivized farming policy had been in force for 20 years-the people of Xiaogang village, in eastern China's Anhui province, became the first in the country to get rid of starvation, setting a milestone for China's rural reform.
However, the village later lagged other villages, particularly along the east coast, that turned to industrialization for further growth.
To catch up, Xiaogang began to change for the better.
"Since 2004, the village has been put on a fast track for growth," said Li Jinzhu, Party secretary of Xiaogang.
In that year, Shen Hao, Li's predecessor, was sent to Xiaogang by the provincial government to help the village develop.
"It was everything but an easy task," said 75-year-old Yan Jinchang, one of the farmers who signed the agreement to subdivide their farmland 40 years ago. "A viewpoint expressed repeatedly by China's leaders and the people is that the nation becoming an all-around well-off society depends on the welfare of rural residents."
In 2003, the villagers only enjoyed an average annual per capita income of about 2,000 yuan ($295) and the village committee owed more than 30,000 yuan.
The first thing on Shen's plan was to develop modern agriculture, integrating small farming plots into bigger ones so that machines could be applied to boost efficiency, according to Huang Qingchang, who was an assistant to Shen.
The second measure was to develop tourism. A museum to commemorate the village's rural reform opened in 2006, attracting thousands of tourists each year. To accommodate visitors, a seven-floor hotel with hundreds of rooms opened in 2011.
In 2008, Yan was persuaded by Shen to run a restaurant in the village to serve the tourists. Starting with 40 seats, his restaurant can now serve 200 people at the same time.
"Now my family earns more than 140,000 yuan per year from the business, thanks to Shen's efforts," Yan said.
Shen also developed an even more ambitious plan to lure investors to Xiaogang for businesses including food processing and modern agriculture.
The first firm attracted to Xiaogang was GLG Life Technologies, a Canadian producer of natural sweetener extracts. Ground was broken on the 33-hectare first phase in 2009 and the project has seen investment of 350 million yuan so far, Li said.
Though Shen died in 2009 at age 45, his strategies have been maintained, said Li.
On top of Li's to-do list is a Panpan Foods Investment plant, which is now under construction and will be put into operation in December.
"It will provide more than 2,000 positions to villagers in Xiaogang and beyond," said Cai Jinan, CEO of Panpan, which is based in Fujian province.