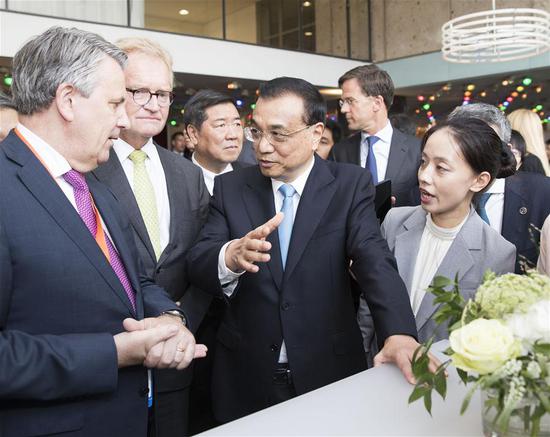 Chinese Premier Li Keqiang, together with Dutch Prime Minister Mark Rutte, visits a hi-tech exhibition and joins a symposium with entrepreneurs in The Hague, the Netherlands, Oct. 16, 2018. (Xinhua/Huang Jingwen)
Chinese Premier Li Keqiang on Tuesday vowed to further strengthen intellectual property rights (IPR) protection, saying that China by no means allows any forced transfer of IPR.
"Any transfer of IPR must be based on the will of the enterprises," Li said while addressing the China-Netherlands Business Forum 2018 in the Hague during his visit to the Netherlands.
"If the enterprises are willing (to make a transfer), it has to be a fair deal. That is to say, the enterprises must be paid for," Li said.
Without IPR protection, innovation cooperation is impossible and expansion of investment in the Chinese market lacks of foundation, Li said.
The premier said any IPR violation in China will be severely punished in accordance with the law.
"I would like to make a pledge here that the Chinese government will pay great attention to the protection of IPR so as to create a conducive environment for innovation," Li said.
"If any enterprises encounter any trouble in this regard, they can raise the issue with us. We will handle it in accordance with the law," he added.