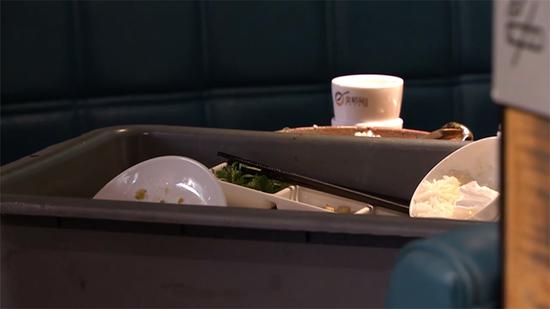 Leftovers are pictured in a Chinese restaurant. (CGTN Photo)
China wastes enough food each year to feed a fifth of all malnourished people in Africa.
October 16 marks World Food Day, and this year's goal is emphasizing the mission to achieve #ZeroHunger by the year 2030. UN agencies including the Food and Agriculture Organization (FAO), the World Food Program (WFP), and the International Fund for Agricultural Development (IFAD), have long established programs across China to address problems such as food security and accessibility, rural poverty, malnutrition and agriculture production.
But one issue that is often overlooked is food waste.
A study by the WFP and Chinese Academy of Sciences released earlier this year found that in 2015, Chinese consumers across four major cities wasted 17 to 18 million tonnes of food served at restaurants. That figure is said to be enough to feed some 30 to 50 million people per year, the upper range on par with the population of South Korea or to put it another way, one fifth of all underfed people in Africa (247 million) as estimated by the FAO.
What is behind all the food waste?
Several factors, specifically in China, are contributing to this problem.
In the same report, cities were identified as the centers of food waste, whereas rural areas were found to better manage the issue. Perhaps because of abundance and supply, vegetables were the most discarded food item, and tourists and holidaymakers were the biggest culprits responsible for wasting food.
Though rather obvious, the report found that larger restaurants had greater amounts of wastage, and that dinner parties or banquets also produced significant levels of waste.
Restaurants versus consumers
Restaurant owners and those in the food and beverage industry have taken notice of the issue.
Liu Yong, manager of a Beijing-based restaurant, believes that once the food is served, the onus to not waste food shifts to the customer.
"I do think it's the customers who are ultimately responsible for food waste. Of course we would provide whatever the customers order. Even though the customers may not care if they've ordered too much, we can't refuse them."
Liu devised a simple strategy to combat food waste, advising customers on portion sizes, and creating a menu suited to the number of people being served.
Not just the food on your plate
But the issue of food waste is extensive, happening both at a pre-consumption stage, and at the table.
Specialists have noted that in China, food waste needs to be addressed throughout the supply chain, from harvest, storage, packaging, all the way to delivery and preparation.
WFP China Director Qu Sixi sees food waste as a serious concern in China.
"This is a big problem. So of course China attaches a lot of importance to food security, including food production. There is a real need and space for China to further improve".
Meanwhile, Matteo Marchisio, the country director for IFAD, believes China exhibits unique characteristics when it comes to food waste, and notes that despite the country having essentially overcome concerns of food shortage and supply, wasted food remains an issue.
"The interesting feature in China is that China shares characteristics of both upper and mid-income countries, where food waste is mainly a matter of wasting food at the consumption stage. In fact, in China you have huge waste at restaurants, canteens and at an individual basis. But [China] also [has] a characteristic of food loss or food waste of a developing country, where food loss happens at a pre-consumption phase," he said.
With China's effort to eradicate poverty by 2020, and with the 2030 Sustainable Development Goals in mind, much has already been accomplished on those fronts. Rural revitalization projects are underway across the country, and many living in villages are now using channels such as China's growing e-commerce platforms, to export their agricultural products to other parts of the country.
As for food waste, experts believe it will truly come down to an individual level and commitment. The decisions people make at the dinner table will likely have the biggest impact on the future of food waste in China.