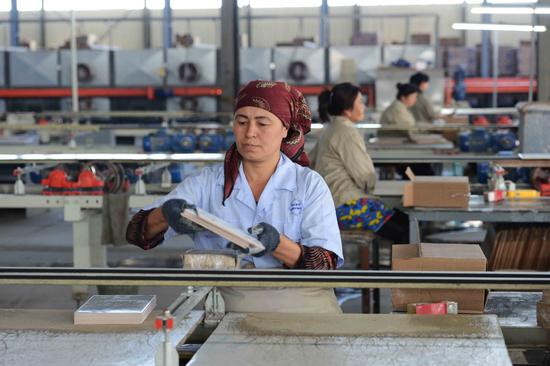 A local employee works on a ceramic tile production line at an industrial park, the first China-invested joint venture industrial park, in Uzbekistan. (Photo/Xinhua)
The Belt and Road Initiative has already produced several tangible results, which will continue to boost revenue growth of both Chinese and foreign companies, while improving their ability to execute big-ticket projects, an executive of CITS American Express Global Business Travel said.
"This grand initiative will not only rejuvenate ancient trade routes, but also further open up markets and accelerate economic integration on a transparent, equal and innovative ground," Kevin Tan, vice-president and general manager of the travel firm's China operations, said.
The B&R initiative, proposed by China's leader, envisages infrastructure networks and economic ties connecting China to the rest of Asia and to Europe, Africa and the wider world, Tan said.
"It will no doubt drive economic growth and efficiency, social welfare and customer satisfaction in all the countries and regions participating in the initiative," Tan said.
Forty percent of companies and organizations in the initiative's footprint have reported plans to expand business travel budgets because of the opportunities presented by the humongous project, Tan said, quoting data from the CITS American Express Global Business Travel 2017 China Business Travel Barometer.
"China is on the way to become an important economic entity in the world and will shape the future of the global economy to a degree that we can currently not yet predict," Tan said.
Like Tan, many executives from multinational companies have a firm belief that the initiative will provide fresh momentum to global economic growth.
A consensus has developed among them that the Belt and Road Initiative is "not just China's initiative, but also a global opportunity", he said.
Karel van de Pijpekamp, CEO of International SOS China, a firm specializing in medical and travel security assistance, said the undertaking has great potential for Chinese companies and foreign companies to work together. He called on MNCs to imbibe the "philosophy" of the initiative.
As China's role on the world stage becomes more significant, the country is making a constructive contribution to global economy, said van de Pijpekamp.
Cooperation based on the Belt and Road Initiative needs to be gradually deepened, from a single aspect to multifaceted ones, Rachel Duan, president and CEO of GE China, said.
A breakthrough in models of global cooperation would be achieved through joint efforts in market development, financing and operation, Duan said.
According to David Wijeratne, growth markets center leader of Pricewaterhouse-Coopers, one of the global Big Four professional services firms, those partnerships can prove to be beneficial for both Chinese and foreign companies in many ways.
"Gaining knowledge through foreign partnerships can help Chinese enterprises further develop expertise, and enable them to enhance global credibility in the infrastructure sector," Wijeratne said in an article published on the World Economic Forum website.
"For foreign companies, a collaboration with Chinese companies in infrastructure projects in third-party countries can help open up access to its large domestic market. Furthermore, foreign companies can partake as a private investor in projects that are risk-guaranteed by Chinese institutions, with an improved risk-return ratio," Wijeratne wrote.
Wijeratne cited successful partnership examples, wherein foreign multinationals have become established equipment suppliers to Chinese engineering, procurement and construction companies and have thereby benefited from a boost in orders both in third-party markets as well as in China.
"Many of these foreign companies also possess previous experience in large-scale projects in developing countries that are more complex. This is typical to B&R projects, with foreign companies able to contribute by establishing connections with local stakeholders, as well as having prior knowledge of managing an infrastructure project in developing countries," Wijeratne wrote.
This can help reduce operational risks, which may be otherwise further enhanced especially when operating in less familiar business environments, he wrote.
Ever since the country proposed the B&R Initiative, trade and investment relations between China and its partners have been strengthening, official data showed.
Trade volume between China and other B&R economies expanded 17.8 percent year-on-year to 7.4 trillion yuan ($1.14 trillion) in 2017, according to the Ministry of Commerce.
China's exports to countries and regions involved in the initiative increased by 12.1 percent in 2017 from one year earlier, while imports from the economies rose 26.8 percent year-on-year, according to the commerce ministry.