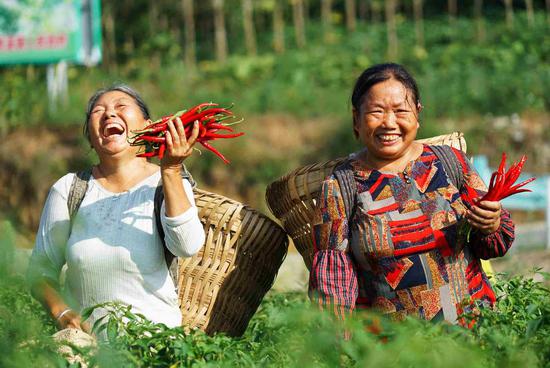 Farmers enjoy a light moment with chilis harvested in Zunyi, Guizhou province. (Photo provided to chinadaily.com.cn)
China has always upheld the people-centered perspective on human rights and takes the path to effectively meet the people's ever-growing need for a better life, experts said at an online meeting on Monday.
The online meeting was a side event of the 51st session of the United Nations Human Rights Council, with the theme of the People-Centered Philosophy — the Value Adherence of the Contemporary Chinese Perspective on Human Rights, which was sponsored by the China Foundation for Human Rights Development and hosted by Minzu University of China.
Zuo Feng, vice-chairman and secretary-general of the foundation, said the starting point and foothold of contemporary China's perspective on human rights are for the people's happy life.
Over the years, China has promoted economic, political, cultural, social and ecological progress in a coordinated manner and worked hard to address problems, enabling its people to feel more fulfilled, happy and secure, said Zuo.
The contemporary Chinese perspective of human rights follows the people-centered philosophy, promotes human rights through development, and constantly realizes and safeguards the fundamental interests of the overwhelming majority of the people, he said.
"China respects the principal position of the people, promotes their all-around development and persists in developing the cause of human rights according to our national conditions and people's demands," he said.
In promoting the development of China's human rights causes, the people have truly become the main participants, promoters and beneficiaries. China's path of human rights development has the broadest and most solid public support and has won the heartfelt support of the people of all ethnic groups in China, he said.
Li Yunlong, a professor at the Party School of the Central Committee of the Communist Party of China, said that the people-centered concept of human rights is the core of China's perspective of human rights.
"In China, all power belongs to the people. The people are the masters of the country and they manage the State affairs, economic and cultural undertakings and social affairs through various channels. The country's development relies on the people and the development results are shared by the people," Li said.
Western human rights emphasize individuals as being the main subject of human rights. While the Chinese perspective of human rights emphasizes the unity of collective and individual human rights and advocates safeguarding both individual and collective human rights at the same time. "China's path is consistent with the spirit of the United Nations human rights instruments and even clearer," he said.