Despite trade frictions over the past few years and constant calls for "decoupling with China" from some U.S. officials, new trends emerging in Sino-U.S. economic and trade development show where momentum really lies for the world's two biggest economies.
In the first eight months of this year, Chinese exports to the United States, rather than falling, expanded 22.7 percent year on year, according to official data.
Likewise, a report by the American Chamber of Commerce in China earlier this year shows that two-thirds of the enterprises surveyed said they would increase investment in China.
Failing to cripple the economic and trade ties between the two economies that are so deeply interwoven, U.S. restrictions weighed heavily on American enterprises and people and the global industrial and supply chains and served to prove that cooperation is the only right choice.
Like Chinese President Xi Jinping has said, when China and the United States cooperate, the two countries and the world will benefit; when China and the United States are in confrontation, the two countries and the world will suffer.
Getting the relationship right is not optional, but something the two countries must do and must do well, according to Xi.
COMPLEMENTARY STRENGTH
Yang Nan, president of a supplier in east China for major retailers of pet products and loungewear in the United States, said his firm has maintained growth in exports despite the trade frictions.
"Each day, we send more than 30 containers to the United States. That's more than 10,000 containers a year," he told Xinhua. His company's exports to the U.S. market have maintained double-digit growth since June last year.
Customs data presented a similar trend in the larger picture. Since the United States imposed additional tariffs on Chinese products in July 2018, Sino-U.S. trade dropped in 2019 but was soon back to growth from 2020.
Inevitably, the U.S. tariff increase took some toll on China, especially on products such as farm produce, light industrial goods and electrical appliances, but it has not dampened the U.S. market's "rigid demand" for Chinese goods, which comes from the competitive prices and quality of made-in-China products as well as the economic complementarity between the two countries.
Imports from China accounted for 19 percent of all U.S. goods imports in 2020, the highest among all trading partners of the United States, while four of 10 of the fastest-growing imports in the U.S. came from China, according to Forbes.
Fu Xiaolan, founding director of the Technology and Management Center for Development at Oxford University, said based on the comparative advantages and market choices, the two economies have established a mutually beneficial relationship that is highly complementary in structure and has a convergence of interests.
Such economic and trade complementarity has been enhanced in times of the pandemic. In 2020, China's exports of mechanical and electrical products to the United States increased 9 percent, and those of laptops and mobile phones expanded 23.4 percent and 4.6 percent, respectively.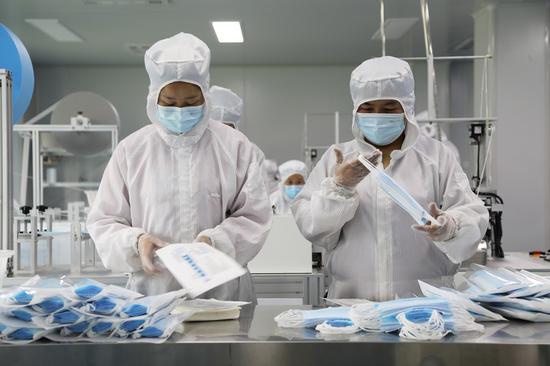 Workers pack face masks at a workshop in Majiazhuang Village of Nanlong Township in Linxia City, northwest China's Gansu Province, March 26, 2021. (Xinhua/Ma Sha)
China's exports of medical materials and medicines jumped by 30.7 percent during the period, customs data showed. To meet surging global demand, the daily output of masks in China once exceeded 100 million.
Seeing the order increase, Yang switched the company's domestic production line of shirts into masks, and its mask production and exports during the pandemic peaked at seven million units in a week.
"Masks can be produced in any country, but only China reshuffles its production lines into other products and raises production capacity so efficiently," Yang said.
More robust trade is in the interests of China, the United States and their peoples, said a spokesperson of China's Ministry of Commerce, and "the U.S. tariff increase is not conducive to China, the United States, and the world economic recovery."
U.S. importers absorbed more than 90 percent of the additional costs caused by the increased U.S. tariffs on Chinese goods, according to a report from Moody's Investors Service in May.
Calculation by Americans for Free Trade, a coalition of more than 150 industry associations that are united in the fight against tariffs, also showed that Americans have paid over 90 billion U.S. dollars in tariffs since the trade war began.
In August, more than 30 of the most influential business groups from the United States called on the U.S. government to restart trade negotiations with China and cut tariffs on imports, saying they are a drag on the U.S. economy.
In the eyes of Yang, who has been doing textile business with the United States for more than 20 years, the Sino-U.S. trade will not be easily "decoupled."
"Even if the United States imports products from other countries, the raw materials of those products are highly likely to be imported from China," Yang said, "In the end, the United States is, in essence, doing business with China."
"If we compare China-U.S. relations to a giant ship, then economic and trade cooperation has been its ballast and propeller. When the ship sails against heavy winds and huge waves, we need to add more strength to the ballast and propeller," said Qin Gang, Chinese Ambassador to the United States.