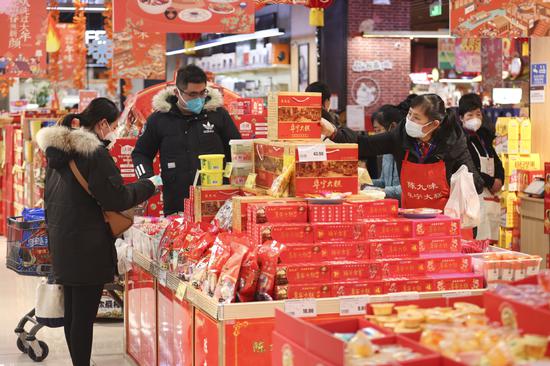 Local residents shop at a supermarket in Lianyungang, Jiangsu province. (Photo by SI WEI/FOR CHINA DAILY)
Growth potential of consumer goods will be unleashed and new consumption formats will evolve faster this year in China on the back of the economic recovery brought about by optimized COVID-19 control measures, the National Bureau of Statistics said on Tuesday.
With the easing of pandemic control restrictions, production and daily life are returning to normal and offline consumption scenarios have accelerated the process, the NBS said.
In 2022, China's retail sales totaled 43.97 trillion yuan ($6.51 trillion), just 0.2 percent lower year-on-year. Retail sales in urban areas stood at 38.04 trillion yuan, down 0.3 percent, with the corresponding figure for rural areas staying flat at 5.93 trillion yuan, NBS data showed.
"Expanding demand in the domestic consumer market is one of the priorities this year. Last year, the consumer market was disturbed by the pandemic, and residents' willingness to spend had also declined," said Kang Yi, director of the NBS.
"In such a context, the government announced some policies to boost consumption, and they have helped stabilize the domestic consumer market, which began to see some improvements in December."
Last month, total retail sales in China fell 1.8 percent year-on-year, and the decline was 4.1 percentage points narrower than the decrease recorded in November.
In 2022, merchandise retail sales edged up 0.5 percent to 39.58 trillion yuan. Retail sales of the catering sector declined 6.3 percent to 4.39 trillion yuan. Retail sales of basic daily consumer goods grew steadily. Edible oils and food, and beverages from enterprises above a designated size jumped 8.7 percent and 5.3 percent, respectively.
Some new types of consumption formats have developed relatively faster. Last year, online retail sales nationwide rose 4 percent to 13.79 trillion yuan. Tangible merchandise retail sales reached 11.96 trillion yuan, up 6.2 percent, accounting for 27.2 percent of the total retail sales, the NBS said.
China's huge consumption potential will be supported by more than 1.4 billion population. The upgrade of the country's consumption structure continues. Besides, new consumption hot spots have been emerging, and new consumption formats that are integrated with the internet and digital technologies are growing rapidly, Kang said.
Meanwhile, a guideline jointly released by the Communist Party of China Central Committee and the State Council, China's Cabinet, in December specified the long-term goals for implementing a strategy for growing domestic demand from 2022 to 2035.
According to the document, a series of arrangements will be made to help expand the domestic market. Expanding employment, increasing income, improving income distribution patterns and providing convenient consumption scenarios for consumers are among the goals.
The implementation of policies to boost consumption will help continuously improve the spending capacity of households, and the scale of the consumer market is expected to be not only restored but improved, Kang said.
Wang Wei, head of the Market Economy Research Institute at the Development Research Center of the State Council, said that consumption of services in areas like cultural tourism, elder care, child care, medical education, sports and leisure will become a key driver of consumption growth in China.