(ECNS) -- In recent personnel changes at Kweichow Moutai, Wang Li was appointed general manager of the group.
Media reports highlighted that Wang is the first female chief engineer of Moutai and the first female general manager in the group's history.
A report recently published on the official website of Moutai confirmed Wang's ascension. During a signing ceremony between Moutai and Huawei on Sunday, Wang signed a memorandum of strategic cooperation as deputy secretary of the Party Committee and general manager of Moutai.
Wang was born in October 1972 in northwest China's Shaanxi Province. After her graduation in 1994 with a degree in Food Engineering from Northwestern Polytechnical University, she joined the ranks of Moutai.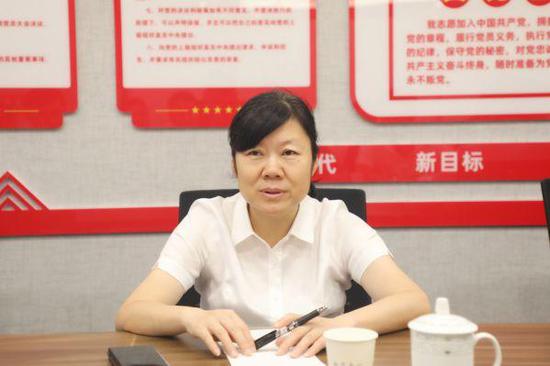 Wang Li. (File photo)
Public reports indicate that Wang's research focuses on fermentation and light industry biotechnology. She received a special government allowance and has been honored with titles such as Leading Talent in China's Liquor Industry and Chinese Liquor Master.
In 2004, she collaborated with Jiangnan University to lead Maotai's first-ever flavor research project, titled "Construction of the Technical System for the Analysis of Flavor Substances in Moutai Liquor."
The following year, she became deputy director of the Technical Center of Kweichow Moutai Liquor Co., Ltd.
She also obtained a master's degree in Light Industry Technology and Engineering from Jiangnan University and co-authored a paper titled "Near Infrared Spectroscopy and Its Application Prospect in Quality Control of Liquor" as the lead author.
This paper discusses the application of near-infrared spectroscopy technology in raw material detection, fermentation process control, and liquor quality control.
On Feb. 9, 2021, the Guizhou Provincial Association for Science and Technology recommended Wang as one of the four proposed candidates for the Chinese Academy of Engineering in Guizhou Province for 2021.
This notice sparked widespread public attention and debate over the necessity of academic involvement in the brewing industry. Some netizens humorously referred to her as the "Moutai Academician" or the "Sauce Fragrance Academician."
In response, the Guizhou Daily published a commentary criticizing such identity-centric labeling, stating that proficient researchers in any technical field hold the right to engage in high-level discussions. Such confidence and courage in this regard should not be taken lightly. Whether Wang can ultimately become a finalist or awardee depends on a more detailed and professional evaluation process.
In April 2021, the Chinese Academy of Engineering released a list of valid candidates for the year's academicians, a list on which Wang's name did not appear.