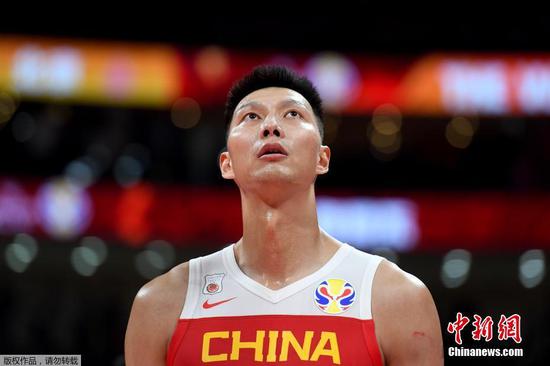 Yi Jianlian (File photo)
(ECNS) -- Chinese basketball star Yi Jianlian announced his retirement via social media on Tuesday night.
"Time flies. In the blink of an eye, basketball has been with me for 21 years. After careful consideration, today, I decided to formally bid farewell to my basketball career," he said.
"I want to express special gratitude to the Chinese men's basketball team, a name that holds sacred meaning for me. Every time I don the national team jersey and compete for the country, I feel the immense pride evoked by our powerful homeland," he added.
"Farewell, and I wish you an even better future ahead," a netizen said.
"An era has come to an end. After retirement, live your life to the fullest. Wish you happiness and joy ahead," another said.
"We fully understand and respect Yi Jianlian's decision to retire. The club plans to hold a grand retirement ceremony for him later and wishes him all the best in his future endeavors," Guangdong Hongyuan Basketball Club said on social media.
"As an outstanding player cultivated by Guangdong Hongyuan, Yi Jianlian has been one of the most brilliant basketball stars in Guangdong. Over the past two decades he has made indelible contributions to the club, Guangdong basketball, and Chinese basketball," the club added.
The 36-year-old basketball player began his career in the Chinese Basketball Association (CBA) in 2002. In the 2007 NBA draft, he was selected by the Milwaukee Bucks with the sixth overall pick.
After competing in the NBA for several years, Yi returned to the CBA arena and helped the Guangdong men's basketball team win the championship multiple times. He won the Most Valuable Player award for five times and holds several historical records in the CBA.
With Yi bidding farewell, all 12 members of the 2008 Beijing Olympics Chinese men's basketball team, affectionately known as the "Golden Generation of 08," have all retired.
This team made it to the quarterfinals in that Olympic Games. The members of the team were Yao Ming, Wang Zhizhi, Du Feng, Wang Shipeng, Zhu Fangyu, Wang Lei, Liu Wei, Sun Yue, Li Nan, Zhang Qingpeng, Chen Jianghua, and Yi Jianlian.