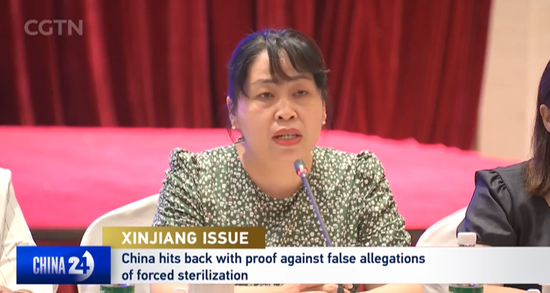 A screenshot of the Press Conference on Xinjiang-related issues held on June 18, 2021. (Photo/CGTN)
Special: Xinjiang
Chinese officials are hitting back at allegations of forced sterilization in Xinjiang, accusing "anti-China" forces of politicizing the issue. Officials say they have proof claims made during a recent event in London have no basis. CGTN reporter has more from a news conference in Beijing on Friday.
Officials have denounced recent allegations of rights abuses in China's Xinjiang Uygur Autonomous Region, calling such moves "childish."
XU GUIXIANG Spokesperson People's Government of Xinjing Uygur Autonomous Region "I want to tell the anti-China forces and clowns from western countries. Stop playing these childish and boring tricks. The people's government has a lot of experience in developing the region. It's highly informative and a good reference. Instead, we should pay more attention to counter the threat of extremism and learn from it."
The news briefing held Friday in Beijing also responded to allegations of forced sterilizations taking place across Xinjiang.
One of the witnesses at the Uygur Tribunal, a UK-based legal investigation into the genocide allegations, says the government has been ordered to remove 2,000 uteruses a year.
But a doctor from the People's Hospital in Xinjiang's Hotan Prefecture says this would be impossible.
ANWAR ABDUREYIM Vice President, People's Hospital in Hotan Prefecture "For those who have basic medical knowledge, they know it needs at least two and a half hours to perform such an operation. If what the witness says is true, you'd need five thousand hours of operations to remove 2,000 uteruses. If a doctor works eight hours per day, it would take 625 days to finish such a task."
CEN ZIYUAN Beijing "Family members and officials have denied and challenged the legitimacy of the accusations at the so-called Uygur Tribunal in the UK. Some of the witnesses who testified are found to have commit fraud and other crimes. Dr. Wang Juan from the Urumqi Maternal and Child Care Service Center slammed the claim of forced birth control with a copy of a signed consent document."
WANG JUAN Doctor, Urumqi Maternal and Child Care Service Center "When Zumrat Dawut gave birth to the third child, the individual was asked to perform a c-section and ligation. We fulfilled her request and performed the operations. They didn't have anything to do with a hysterectomy."
Zumrat Dawut testified at the tribunal, claiming her uterus was removed after giving birth to her third child.
WANG JUAN Doctor, Urumqi Maternal and Child Care Service Center "She can go to any of the other hospitals to perform an ultrasound to see if her uterus has been removed."
Officials say this is just one of many flawed examples of the accusations being directed at China. They say they hope people will pay more attention to the counter-terrorism efforts in the region, and that they are willing to share their experiences at boosting development.