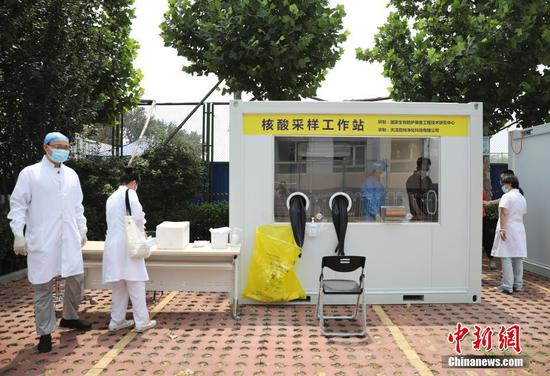 Photo shows a nucleic acid testing booth in Beijing. (Photo/China News Service)
(ECNS) -- Citizens in Beijing suggested that idle nucleic acid testing booths be changed into rest stations for sanitation workers.
Many nucleic acid testing booths are unused in Beijing as test demands are plummeting. These properties involves several parties, making them difficult to remove, which has triggered public attention as to how to deal with them.
Citizens have put forward many suggestions on their reuse via Beijing Daily, including transforming them into booths for community security guards or for volunteers during major events.
But most people thought they should be turned into rest stations for sanitation workers, accounting for 40 percent of all suggestions.
"The job of sanitation workers is hard, especially in winter. It will be great if there are rest stations where they can drink hot water or rest for a while after strenuous work," said a woman surnamed Zhang, a citizen from Beijing.
Zhang, a sanitation worker, said she starts work at 4 o'clock in the morning, returns to her station for lunch at 11 o'clock, and then goes back to the street to work in the afternoon.
"I often forget to drink water once I begin my work. It is not convenient to carry a bottle of water. Hot water in a thermos pot will be cold in a few hours because it is chilly outside now," she said.
But some citizens thought the transformation of nucleic acid testing booths should collect more suggestions.
"I think we should collect voices from different parties like citizens through questionnaires or other ways to decide whether this kind of transformation can be implemented," said Zhu, another Beijing resident.