(ECNS) – The Seminar of ASEAN-China Cooperation on Agriculture was held last Friday in Beijing as part of the ACC Roundtable Series to mark the Year of Agricultural Development and Food Security Cooperation.
The two topics of the seminar are "Agricultural Development of ASEAN and China" and "Food Security." Representatives from the China-ASEAN Centre (ACC) , ASEAN agricultural authorities and embassies in China, ASEAN Secretariat, and Chinese experts exchanged their views.
ACC Secretary-General Shi Zhongjun said China and ASEAN are home to more than 2 billion people, so agricultural development and food security are of crucial importance to both sides.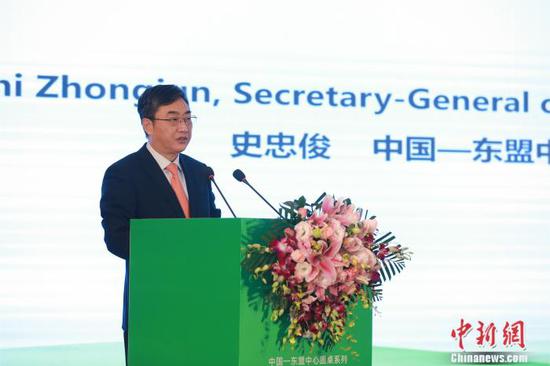 ACC Secretary-General Shi Zhongjun delivered a speech at the seminar last Friday. (Photo provided by ACC)
"In recent years, food production and security are facing increasing challenges. Geopolitical tension especially wars and conflicts, plus natural disasters and the COVID-19 pandemic, have brought difficulties to agricultural production as well as supply chain. Therefore, it is of great significance that the ASEAN-China Summit last year designated 2023 as the Year of Agricultural Development and Food Security Cooperation," said Shi.
He also gave three suggestions for promoting cooperation and exchanges in agriculture.
Stable production and supply should be ensured, he said, adding that ASEAN and China should enhance professional dialogues, mutual learning in agricultural science and technology application, joint research and innovation on green agricultural development, and harness the role of the ASEAN Food Security Information System (AFSIS) in information collection, disaster risk monitoring and early warning.
He also suggested strengthening the safety of circulation. Both sides should coordinate on agricultural trade policies, take advantage of the Regional Comprehensive Economic Partnership (RCEP), step up cooperation across the grain production, circulation, storage and processing industry chain, develop cross-border trade in agricultural products, and give full play to digitalization and e-commerce, so as to maintain the stable and smooth supply of agricultural products in the region, he said.
He noted that China and ASEAN should promote rural development. The two sides should enhance the capacity of agriculture practitioners to adapt to and respond to the new circumstances, including climate change and transformation of world economy, he said. By greater synergy between the ASEAN-China Action Plan on Green Agricultural Development and the ASEAN Guidelines on Sustainable Agriculture, ASEAN and China could further develop and revitalize the rural region and benefit the people with targeted preferential policies and necessary poverty alleviation initiatives, he added.
Li Jinxiang, national chief veterinary (officer) of the Ministry of Agriculture and Rural Affairs pointed out that designating 2023 as the Year of Agricultural Development and Food Security Cooperation and the rollout of ASEAN-China Joint Statement on Food Security Cooperation demonstrate the determination of all sides to promote agricultural development and safeguard regional food security
Agricultural strategic dialogue and policy exchanges should also be intensified; agricultural economic and trade investment exchanges should be enhanced for the Year of Agricultural Development and Food Security Cooperation, added Li.
In his speech, he stressed the importance of improving regional food security capabilities, supporting the role of ASEAN, China, Japan and South Korea's rice emergency reserve mechanism, jointly building a resilient and sustainable food and agricultural system in the region as well as promoting the green development of agriculture and effectively responding to challenges such as climate change and resource constraints.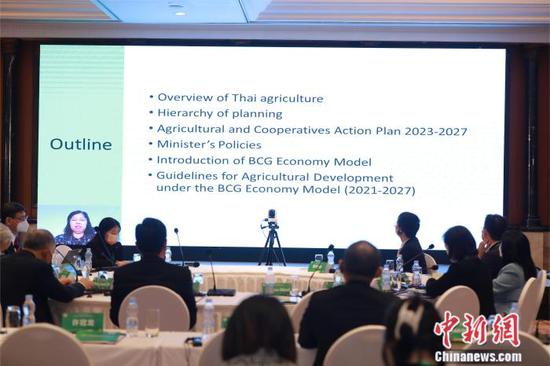 Seminar of ASEAN - China Cooperation on Agriculture was held last Friday in Beijing. (Photo provided by ACC)
Deputy Secretary-General for ASEAN Satvinder Singh made an online speech where he expressed the strong willingness of ASEAN to cooperate with China, especially under the framework, and the principles of sustainable agriculture. He hopes that the two sides could carry out more efforts on capacity building including increasing food reserves and reducing food loss and waste.
The seminar is co-organized by the ASEAN-China Centre (ACC) and the Department of International Cooperation of Ministry of Agriculture and Rural Affairs of China.