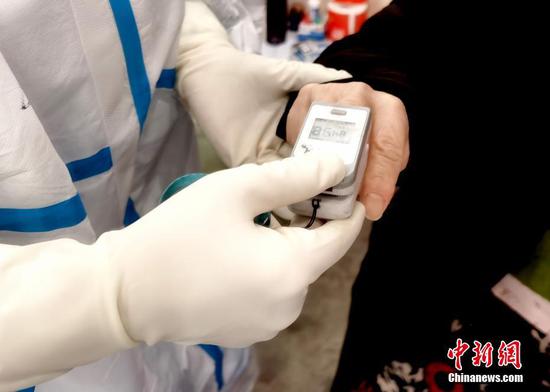 A doctor uses a fingertip pulse oximeter to test a patient's oxygen saturation of blood in a hospital in Wuhan. (Photo/China News Service)
(ECNS) -- Fingertip pulse oximeters have covered over 600,000 village clinics in China, said Chinese health authorities for COVID-19 prevention and control in rural areas on Sunday.
At a press conference held on Sunday, officials said several departments including National Health Commission have offered each village clinic two fingertip pulse oximeters and each township health center one oxygen generator to meet their urgent needs.
Mao Dezhi, who is in charge of epidemic prevention and control in rural areas, said over 80 percent of oxygen generators for more than 11,000 township health centers have been delivered.
Meanwhile, related enterprises have donated epidemic prevention materials to old people and children from 160 counties covered by China's rural revitalization strategy, said Mao.
Mao stressed that his team will focus on prevention of severe cases and pay more attention to the epidemic situation in rural areas, further improving the accuracy of their work.