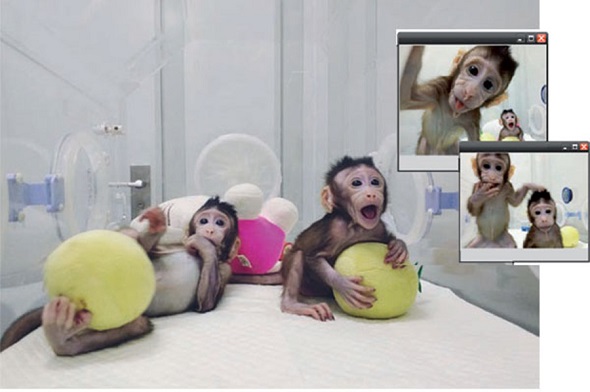 Zhongzhong and Huahua, the world's first cloned monkeys using somatic cells, play in their chamber at the Chinese Academy of Sciences Institute of Neurosciences in Shanghai. (Photo provided to China Daily)
On Thursday, the Institute of Neuroscience, Chinese Academy of Sciences, announced it had cloned two monkeys using non-reproductive somatic cell nuclear transfer in December. Three experts share their opinions on the issue:
Welcome news, but we need a new law
Since Dolly the sheep was cloned using somatic cell nuclear transfer in 1997, scientists around the world have been trying to clone primates. None of them succeeded until the Chinese team.
More importantly, the Chinese team cloned a primate with non-reproductive cells, which is even more difficult than cloning animals through reproductive cell transfer. The biggest significance is that scientists can now use proper primates for medical tests. The research into many human diseases lags behind because scientists cannot conduct tests on humans. At present, researchers mainly conduct tests on animals such as mice, but there is a huge genetic difference between humans and mice.
With the cloning of primates, it is possible to get large numbers of primates infected with the same diseases as humans, and conduct medical tests on them to find a cure. Such tests will be more effective because primates are genetically much closer to humans than mice.
The cloning of monkeys has also aroused worries, especially raising the question: Will the technology be used to clone humans?
The legislature needs to draft a new law and corresponding regulations on the issue to suit the needs of the times. Technology is neutral, but we need a specific law to prevent vested interests from abusing technology.
Wang Yue, a professor at the Institute of Medical Humanities, Peking University
Success will help find cure for diseases
Currently, researchers can edit the genes of a single cell, but not the genes of an animal already born. With the technology used to clone the primates, we can get animals with edited genes.
That's very good news for neuroscience. Many genes, such as those causing Alzheimer's disease, Parkinson's disease and autism are similar in primates and humans. With the new technology, we can edit the genes of a monkey piece by piece to find out which gene caused a particular disease and how it can be re-edited leading to a cure.
Besides, there are so-called "tool animals", such as monkeys with optogenetics, which can be so gene-edited that their nerves are accurately controlled by light. Gene-editing is the only way of cloning these animals and the new technology makes that process much easier.
Therefore, it would not be exaggerating to say the success of the Chinese team will make China a leader in the world of neuroscience.
Tang Cheng, a research fellow in gene-editing studies at the Institute of Neroscience, Chinese Academy of Sciences
Technology needs stronger rules
Cloning animals is quite a mature technology, and there is little dispute over it. However, there are some questions that need answers. For example, will the cloning process cause irreparable damage to the animals? Will the cloned animals pose a threat to humankind?
There are no detailed regulations on animal cloning yet, but some principles must be followed. According to the Human Genome Organization's declaration on cloning technology in March 1999, the researchers who clone animals must take very good care of the animals, and the purpose of cloning must be made clear before beginning the process. And biodiversity must be given due consideration in the process.
With the Chinese team's success, cloning technology might achieve more progress in the future, which makes absolutely necessary to improve the regulations on cloning, so that it can better serve humankind.
Zhang Tiankan, a former medical researcher and vice editor-in-chief to Encyclopedia magazine