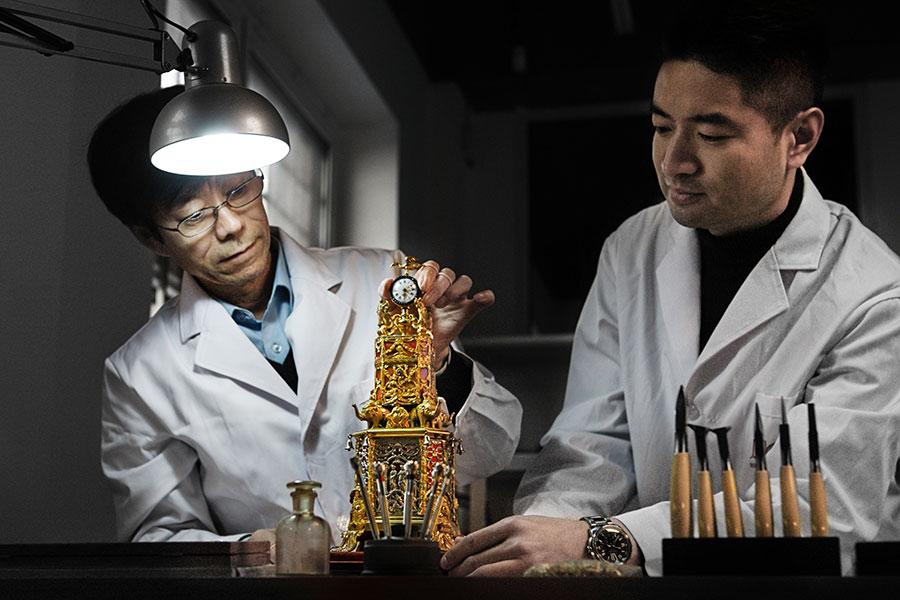 Wang Jin (left) and his apprentice Qi Haonan work on a joint project by the Palace Museum and Swiss watchmaking company Cartier. (Photo provided to China Daily)
Wang, 57, who has worked at the Palace Museum for about 40 years, says every detail needed scrutiny. To guarantee the operation of movements, some old parts had to be duplicated. Even so, these newly-added parts would be polished to ensure the overall aesthetic consistency. But one timepiece that lost its dial hands almost halted the joint restoration.
Wang disagreed that they should use newly-made hands, which he thought would affect the timepiece's originality.
So, Swiss technicians rummaged through documents in La Chaux-de-Fonds museums, and finally found a set of backup dial hands that was made in 19th-century Britain.
Wang says this is the first time antique clock restorers from his museum have undertaken a joint project with Switzerland. Qi Haonan, Wang's apprentice at the Palace Museum, also participated in the program.
"Switzerland has training schools for timepiece restoration, but we don't have that in China," Wang says. "There are still many areas for cooperation in the future."
The documentary crew traveled across China and Switzerland to shoot the film, and also made a video log of the program until the restored movements were assembled back in Beijing in the summer.
The Palace Museum first reached an agreement to work with Cartier in 2014.
Wang says there might be potential for other timepiece exhibitions in the future.
Cyrille Vigneron, CEO of Cartier International, says the timepiece collection at the Palace Museum is as famous as its jade and porcelain treasures, and is made of "grand creations".
"With the delicate restoration of the imperial collections, our workshop has experienced a great human and cultural journey, nurtured by curiosity and mutual inspiration," Vigneron says.
fCalling the documentary a "rare testimony", he says it is a result of the collaboration between master watchmakers from the East and West.
Prev Button
Next Button